« belly dancing in amman »





---
---
---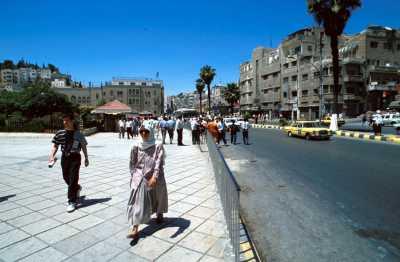 ---
---
---






june 23, 1999 amman, jordan


i've lost track of time in the magical forests of mitzpeh amuka for almost a week. so, waking up in the cool morning air one eventful morning, i decide to re-immerse myself in harsh mideastern reality again and continue my trip - by finally taking off for jordan. i've been trying to convince tzipper to go with me for days. perhaps that's one of the reasons why i've been hanging around so long. he's been to jordan before. he has a car. he knows the ropes. i'm hoping my patience and rhetoric will be rewarded. but -- life isn't necessarily fair. the final verdict comes in -- rhonda says "no". my carefree, spontaneous galloping golan guide has been reigned in by his practical, apron-wearing wife. i'm on my own.









so bright, but not too early, the next day, the great tzipper and i take our leave. he drops me off at the rosh pina bus station. we hug like two brother bears, swear we'll stay in touch, but we both know - that chances are - we have already spent our two-ships-passing-in-amuka time together. the bus comes. i get on. it drives south, and drops me off on the main highway at beit she'an about ten miles from the jordan border crossing at the sheik hussein bridge. it's about a million degrees in the late morning sun, and i stick out my thumb to hitch. i'm thankful that the moravs, my friend-hosts back in jerusalem, are keeping my suitcase for me, allowing me to travel this lightly for my mini-excursions into the hinterlands. still, it's scorchingly hot.









israeli roads are teeming with hitchhikers, mostly young men and women in olive drab soldier uniforms - with rifles. i'm the exception with my baggy shorts and t-shirt, but after about half an hour, i catch a ride from a crusty old kibbutznik. i'm at the jordanian border (a very unpopulous one) in another ten minutes, and before i know it, i've paid my exit fee (again), and gotten my visa stamps. the customs and border officials are genuinely friendly ("you are welcome, you are welcome"), and they set me up with tourist brochures and a bus route to amman. the problem is -- i've run out of cash. after the exit fee, entry fee, and bus ride from rosh pina, i'm broke. there are no ATM machines at this lonely border crossing. i've miscalculated. taken one thing too many for granted. money. i don't have any - other than plastic. not even enough for the bus to amman, where there are plenty of banks and cash machines. "oy", i say out loud. but that word doesn't work either; i'm back in the land of islam. the gigantic, smiling, red kaffia-ed poster of jordan's new king abdullah reminds me of that.









but i still must be carrying a smidgen of luck from the amuka forrest, because two, also-smiling border agents (who seem to have nothing but time on their hands) take me in tow and walk me around back to a stand-alone customs office that seems to be attached to the bus depot. they translate my state of affairs to yet another smiling agent, and somehow manage to get me a reasonable amount of jordanian cash from one of my credit cards. without commission! "you are welcome, you are welcome", they smile and croon, even before i can offer, and quite independent of, my heart-felt thank yous.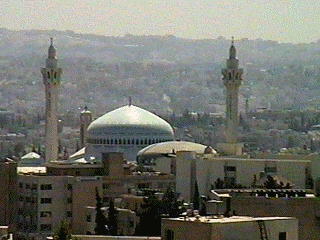 i'm cruising east in the comfortable jordanian bus towards amman, climbing over scenic and mountainous terrain, stopping off in the provincial university town of irbid. people are a little less smiley, and i feel like i'm shedding my skin, disappearing from what i know in the west and being absorbed into the brown-faced, third world unknown. we arrive in downtown amman. i get off the bus. i am swarmed by the tourist-leeching hordes. taxi drivers, hotel touts, the whole menagerie. but at least it's daytime, so it feels somehow different than cairo. less intense. more civilized. i can actually see faces and make decisions without the pressure of homeless night. i choose one of the horde - a taxi driver - he's a large, friendly looking bloke. he's wearing ordinary trousers and a polo shirt with a collar, but i imagine him in a white caftan. his name is joseph and he speaks a little english. i get in his cab, not at all knowing that for the next two days, i will be in his capable, and thankfully not too greedy, hands.









first off, joseph takes me to hotels. several. it's the cairo routine all over again. starting off at the seamiest one, quite probably where joseph has the best kickback deal, we then work our way up - to one where the shower actually works, the street traffic isn't too overwhelming, and the door of the room really locks. i check in. what next? what am i to do in amman? tzipper's tour route consists only of "see amman". great. i could take out my "let's go" guide and just start wandering around, but according to the book, the sprawling city consists of seven steep circular "jabals" (hills). it sounds a bit much. so -- joseph to the rescue. we strike a deal. he'll give me a customized tour of amman for the next five hours for - about twenty american dollars. sounds good to both of us.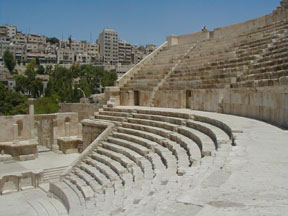 so off we go. starting at the highest hill and working our way down through the eight numbered traffic circles, we see the requisite roman theater ruins, the umayyad palaces, the central mosque, the market place, the architectural museum, the foreign embassies, and many other things joseph points out and i only half understand. i get the big picture though - this was a small biblical town that later became the greco-roman city of philadelphia, whose population only recently, after the mideastern wars of '48 and '67, and then again after the gulf war of '91, burst at its seems with palestinian refugees to make it the modern-day hub of king hussein's hashemite jordan.









we stop at a local fruit and vegetable stand on our way wadi seer, a small village outside of the city that joseph assures me will be worth the drive. i choose my beans, bananas, and oranges carefully, still frightfully paranoid about eating roadside food that can't be "peeled". joseph watches me with bemused consternation; he can't believe what we tourists do to ourselves. he picks up a delicious looking nectarine and bites into it joyously. he beams at me as the juice drips from his chin. he wipes it with his bare arm and says something terribly amusing to the vendor in arabic. they have a good laugh - at my expense.









soon we're at wadi seer, a rustic little village with smiling children along side the road, and verdant green tobacco plants and olive trees just beyond. i learn from joseph - mostly in sign language - that he used to be - or still is - a heavyweight boxer, employed by the national team. whether he was - or still is - i soon discover that my man joseph is still powerfully strong; for soon we're climbing the ruins of the nearby iraq al-amir and he's lifting me like a child from one crumbling wall to another. i must be getting old, the up and down is getting to my hip joints. it's a very strange feeling - and a personal exercise in international liberation & diplomacy - to trust this friendly giant of a man with my body - with my life -- not being able to speak to him with more than grunts, laughs, and mono-syllabic english - yet still having the time of my life. i mean, when was the last time i was carried in the arms of a two hundred and fifty pound, barrel-chested man and deposited on monolithic blocks of brown sandstone with aramaic carvings encoded in their two thousand year- old history?








now bonded like two suma wrestlers turned business associates, joseph drives me back into the purple dusk of beckoning amman. we head back towards the hotel. i can imagine myself spending the rest of the evening sitting alone in my room - listening to the cacophony of downtown traffic. or in the lobby with these old smoking jordanians. i'm not feeling very adventurous or sociable. besides, i have a craving. "joseph," i say, "do you know where i can see some live arabic music?" he looks at me in the rear view mirror and smiles. i can see he doesn't understand a word. "oud music", i say. "oud?" he seems to get the gist because he starts dancing in his seat with both his hands off the steering wheel. "yes," i say, a little concerned with the oncoming traffic. "bel-ly dance," he grins at me, showing off his english. "yes," i say encouragingly, "but i don't want so much the belly dancing; i want the music - the oud." "oud... bel-ly dance," he mimics happily again. he continues dancing in his seat, leaning far over to his right. i think maybe he's become possessed. but he's reaching over into his makeshift glove compartment and pulling out a cassette, this time turning fully around in his seat to show it to me. "al khoutoum!" he says emotionally. "oh," i say, not yet knowing of the existence of the national singing treasure of the arabic world. "good?" i inquire. "good," my boxer-cabby friend beams, as he pops in the tape.









it starts off slowly, sounding like a gravely female seduction call - from the depths of desire. the voice chants, cries, moans - unaccompanied for a full minute. it's hypnotic. then a finger drum answers her call. then an oud. then the full voice. like guttural molasses. like pain. like joy. i can imagine what she looks like. al khoutoum - a fifty year old, heavy-set, leather-faced arabic woman - bedecked in a multi-colored floor-length sparkling dress, adorned with armfuls of silver bracelets and a plunging neckline of gleaming necklaces, swaying high above her adoring audience of thousands on an outdoor, moonlit stage. al khoutoum - blessed with this huge, grandiloquent mouth, in one moment writhing in twisted agony, in the next, beaming with the ecstasy of sensual bliss. as her voice fills my head and my imagination, i am transported back to memories of ali baba and the forty thieves, to pasolini's "a thousand and one tales of the arabian nights", to an image of salome dancing with the head of john the baptist -- all my american movie cliches of the magical and ominous arabic world. yet here i am in the back seat of a cab in downtown amman, and in reality, things look quite commonplace - cars, people, buildings, even the obligatory mcdonald's. i wonder what this woman with the radiant, other-worldly voice really looks like.









somehow i communicate to joseph - or he communicates to me - that we will spend the night together in a local club - listening to oud music and seeing "bel-ly dance". wow. one day out of amuka, and how the scenery has changed. but there is one more essential element to my fantasy, i tell joseph. "arak". that fine, head-pounding local licorice-tasting liqueur. he comprendos. "no problem", he says with a twinkle in his eye. "we go". and that we do. straight to a convenient liquor store - where joseph hooks me up with the cheapest and most potent quart of arak he can find.









thusly fortified, off we go to the club. we're there in ten minutes, and it's -- just -- what i didn't anticipate. touristo. it has neon signs in arabic - and english - "bel-ly dancing". joseph can tell i'm a bit disappointed, but i presume his "relationship" with the management more than makes up for this. we go in - it's after ten o'clock - and there are about three people in the club. i protest and say i want to go somewhere else. joseph feigns non-comprehension and finds me a manager who speaks some english. "no problem, mister, we will be so full very soon. tonight is muslim holiday. people come late. you sit down please?" "no thanks, i'll wait a bit," i say. "can i have a drink in your bar?" "no problem, mister. you come." and he leads us to the outdoor bar - where joseph and i are the only customers in this beautifully kept, neon-green jordanian courtyard. and joseph and i open our bottle of arak. and the night is young. by midnight, i find myself inside the club listening to live, synthesized arabic music. there is no oud. there are no belly dancers. there is a four piece band and they are playing lively arabic - muzak. but there are now about twenty people here. and the full course arabic meal is surprisingly authentic and completely delicious. and the arak has done it's job. i've paid for joseph's meal although he's tried to refuse many times, as he attempts to save face in the eyes of the management by keeping up the posture of diligently looking out for me. this i make fairly easy for him to do - since i am now up in the middle of the room dancing frenetically to the muzak. i'm dancing with the keyboard player, i'm dancing with arab guests sitting at the tables, i'm dancing with a tablecloth over my face, using it like sheherezade herself. at least i think so. i'm sweating and jerking and sliding across the floor, inventing new improvisations and displays of arabian and terpsichordian brilliance by the second. i'm the fred astaire of downtown amman. i can't tell whether the customers are amused or horrified, but it hardly matters. it seems like i am the entertainment for the night.









finally, joseph signals me that perhaps it's time to leave. i look at him and his face begins to blur. perhaps he's right. i tear myself away, pay the bill, and tumble into his cab. a few spinning minutes later and we're at the hotel. magic. joseph the genie. i thank him for the day, haggle a bit over the additional fare, and then give him a forty dollar tip. he smiles at me beneficently, reflecting his subtle knowledge of international diplomacy, and says he'll see me in the morning. "salaam aleikem, joseph. good night, my friend."









next day i wake up early - dehydrated and hung over. i haven't heard any street noise, but it's only six o'clock in the morning and i can't sleep any more. it's quiet. i go down to the lobby. no one's there. i go out on the street. more quiet. but there's joseph in his cab. asleep. he starts and wakes. he sees me, stretches, and smiles groggily. "holi-day," he says. damn. friday, the islamic sabbath. i completely forgot. how am i going to get out of the city to petra?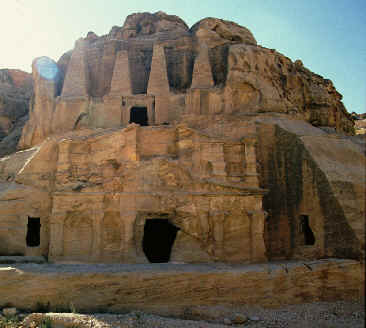 petra, the rose colored city carved into the sandstone cliffs of jordan's southern desert. petra, the most astounding ancient metropolis remaining in the modern world. petra, the one must-see in all of jordan. and i'm stuck in amman. with no buses. no trains. just the muslim sabbath.









"car rental", i say. "rental". i mime driving with my hands on a steering wheel. "ooh," joseph comprehends, saying the words in arabic. he tells me to get back in his cab. i shake my right palm at him - back and forth - and rub my thumb and first two fingers together. i don't know what it means in arabic, but i think he gets the picture: "no more money". he tells me to get in anyway. i refuse. so he points up the street and indicates to go into a store right up ahead. i thank him and wheel my bag up the street. he watches me walk off.









the stores are closed. every one of them. i look back. joseph is still watching. he mimes "go ahead". i do. a travel agency is open. i go in. they're on the phone. i sit down. someone appears from a back room and gives me a glass of hot tea. i wait. eventually, i find one of them who speaks english. he makes a call for me, i speak to a man, and he says he will be right by with a car. i wait. another hour. another glass of tea. the man comes. i fill out the papers. i tell him i want to return the car in aqaba, the southernmost point in jordan. no can do. i have to return it here in amman. no, that doesn't work for me. he leaves. no car. we make more calls. another hour. still no car. finally, a sympathetic customer who overhears us says he'll take me to one of the big hotels - the marriot or something. sounds like a good idea. why didn't i think of that?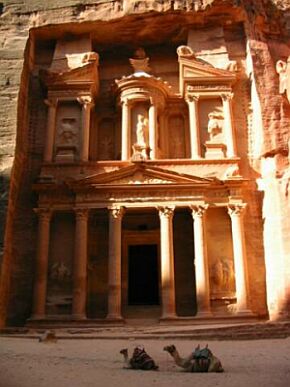 i'm in the hotel lobby, actually off the lobby in the travel concierge's office. he's called three more agencies and basically it's the same problem - i can't return the car in aqaba, or i have to pay double for a "drop off fee". "petra. petra," i hear a voice in my head calling me. so i bite the bullet and settle on the lowest drop off fee. the agency is coming by with the car in five minutes. another hour passes. at least the hotel is cool and cushy; it's my only luxury experience in two months. finally, the guy comes with the car. i fill out the papers and i'm ready to drive off - when i discover the air conditioner doesn't work. great - three days in the southern jordanian desert with no air. he takes me to the rental agency. they can give me another car - for twice the money - or they can fix mine in "ten minutes". "fix it", i say. they take me and the car to the fixit garage. whatever you can imagine, that's what i find. crowded, dirty, primitive - another hour. maybe i should have taken that package tour after all!









the air conditioner finally works, but the car is an old clunker. after seeing its guts, i no longer trust it. okay, they'll drive me to the airport and give me a new rental car. okay. another hour. but hallelujah, i finally have a drivable car. i'm on the road out of amman - on my way to petra. or am i? sabbath is almost over. it's nearly three o'clock. petra is at least six hours away. it'll be dark in three and the whole point is to enjoy the spectacular drive along the kings' highway through madaba and mt. nebo. well, at least i'm moving...


to be continued.....





---
---
---