« back from aqaba – and the nba »





---
---
---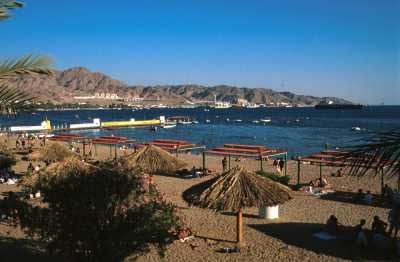 ---
---
---
june 27, 1999


aqaba, jordan


bright, sunlit, azure blue and aquamarine green waters. deep crimson, purple, and multi-colored, live coral reefs. the gulf of aqaba. right across from egypt's great sinai peninsular. the view from the opposite, jordanian side. another quick dip in the red sea, a few arab-dressed barbie dolls from the abundant tourist shops near the docks for my nieces back in oakland, a fresh humus and green salad lunch for my exit fortification, and poof - i'm back in eilat, waiting for the last bus to jerusalem. deja vu. customs, visas, military border patrols, money exchange…


goodbye, wondrous jordan. you were far greater, more challenging, adventurous, and more splendiferous - than i had ever hoped you to be…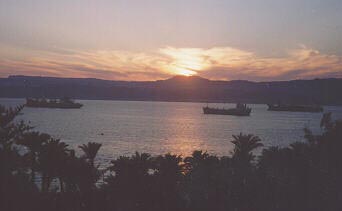 five hours later. jerusalem again. my eternal hosts, maya and raphael, have once again taken me in. i've arrived back from aqaba and eilat at two in the morning. they've graciously opened their door to me, not complained about my reliably unreliable visitation schedule, and allowed me my first real night of sleep in weeks.



i wake up late the next day. raphy's already off to the ministry, the boys are off playing on their summer holiday, and maya will be off to the hebrew university in moments. she tells me that they'll be having new guests arriving tonight, and that i'll have to find another place to stay. "no problem," i say, not having the slightest idea of where to go next. we say our farewells, and i thank her for her two months of generous hospitality. i mean, i would have never even come to israel, never seen egypt, sinai, alexandria, jordan - without her insistence and initial invitation. she seems pleased that i've come and that i've so thoroughly enjoyed her country - and myself - and she insists that i will have to come visit them all next year after the new assignment is determined. i smile and say "of course". she kisses me on both cheeks and goes off to school. for the next hour, i am left alone in the apartment, packing and thinking. where to next?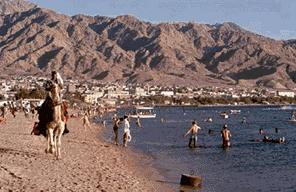 lihran, the bar mitzvah boy, comes in the house, lathered up from a tough game of "football" (soccer). he asks me where i've been and where i'm going next? i tell him, "jordan." and "i don't know." he says, "why not?" i start to tell him: petra, aqaba, the red-kaffia-ed maniac… he listens for about thirty seconds and then asks me about more important concerns. "who's the best player in the NBA besides michael jordan?" "i don't know - shaq, karl malone?" "the 'mail man' - no way," he exclaims, "he's never even won a championship!" of course, he's right. i excuse myself. "say, lihran, will you meet me back here in an hour? i have to go out." "okay," he says, "but what about scottie pippen? you think he's as good as shaq?"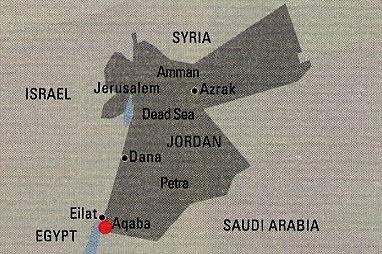 i'm out the door and walking up the hill towards the russian compound. where am i going to stay tonight? think. okay. don't panic. you know if you just move one foot after the other, just stay in the moment, use your brain, trust the universe just a bit – things will work out. one way or the other. relax. improvise. go with the flow. think! is there any place that i simply have to see in my last week in israel and the mideast? well... no, there isn't. wait -- i could go to gaza; i haven't seen that yet. i heard it was stark -- political - tense - all those palestinian refugees living in crowded, miserable camps. no, never mind - i think it's a little much for me in my current state of mind. i don't want to spend my last week being heartsick and paranoid. what else? i don't know. i think - hmmm - that i'm done adventuring. my wanderlust is sated. i just want to relax, recuperate, lick my wounds, and chill out. well, hold on a minute, this is israel; maybe that's not entirely possible. but wait - i'm leaving from tel aviv on july 4th; maybe i'll just hang out there for a week and see what i see. i mean, it's the modern capital of the country, and i barely scratched the surface a month ago. maybe i should just go there. okay, good idea - decided -- i'll go to tel aviv.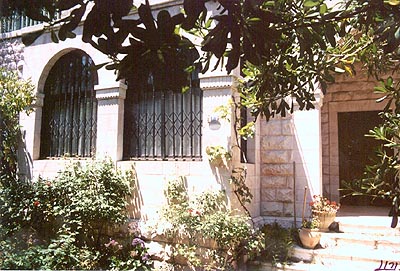 i walk back to the house in rehavia. lihran calls a cab for me. we give each other a good NBA hi-five, and ten minutes later, i'm back at the jerusalem bus station for the last time....




---
---
---