chapter 1

istanbul, city of huzun
may 22, 2010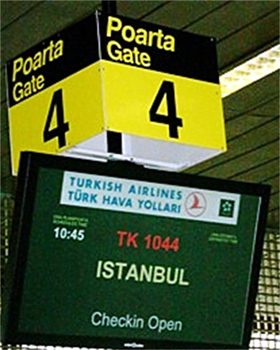 it's saturday morning. i've been up all night, singing romanian folk songs with my bucharesti fulbright students, and i'm definitely not ready to go — to istanbul. but here i am at the airport, not so bright-eyed or bushy tailed, waiting at the gate at 8 a.m. of course, i've always wanted to go to this great ottoman city, formerly constantinople, still the center of "the orient", where the mighty bosphorus literally divides the city into europe on the west bank and asia on the east. but i'm not quite ready. i need a few more days of decompression from my romanian immersion.
the wife is flying in from LA at midnight, while i get things set up from about noon: local currency from an ATM machine, SIM card for my cell phone, and internet connection.... you know, the essential travel trifecta. hassan will be meeting me at taksim square in the heart of "modern" istanbul, after i take the shuttle in from attaturk international airport. we've rented a 1 bedroom apartment over the internet, just 5 blocks from taksim, and soon i'll see what we end up with. cyber photos can be deceiving, eh? but hey, it sounds a hell of a lot more private and less touristy than a backpacker hostel or cheap hotel, and we'll be on our own, negotiating — istanbul.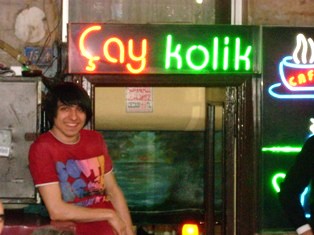 the shuttle into the great eurasian capital is exciting. we drive past the same ancient un-mortared stone wall that has protected constantinople ever since byzantium times. of course, it's in shambles now, but just to know that holy roman emperors were protecting this same city from huns, goths, and mongols as far back as the 4th century A.D., while simultaneously chasing early nomadic christians into cave-churches all through anatolia (central modern day turkey), is a titillating wake up call to the dormant histro-anthropologist inside me. for historian trules recalls the legendary founding of byzantium as early as homeric times, but it first coming into prominence during roman emperor constantine's move there from rome in 330 A.D. but with byzantium falling to the islamic seljuk turk dynasty from persia in the early crusade era (11th century), then with the seljuks falling to the invading mongol hordes from the far east in the 13th century, eventually constantinople comes to full cosmopolitan preeminence when an offshoot of the mongol dynasty, the ottomans, conquer and rule anatolia from 1453-1917. that's a lot of years, my brothers and sisters.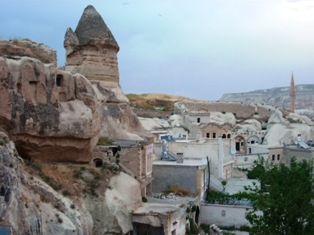 by now the airport shuttle bus is driving over one of the many, many bridges that connect the city into a whole, and i can not only see the multitude of islamic mosques dominating the istanbuli skyline, but i can hear the muezzin's call to mid day prayer, which for me, is the clearest sign that i'm no longer in the clutches of western civilization. the shuttle drops me in dead center of taksim square, for lack of a better comparison, the istanbuli equivalent to the big apple's times square at 42nd and broadway. perhaps taksim should be called "the big olive", because there seems to be all the energy and bustle of an 18 million person cosmopolitan capital hovering on the crossroads of two antithetical continents. but there, smiling at me welcomingly, is hassan, the manager of "istanbul apartments", our home for the next 2 weeks. as i de-board the bus, i can hear the cacophony of arab-turkish "belly dance" music, mixed with the sounds of britney spears, turkish rap, and the loud voices of touts on megaphones, hawking their restaurants' mid day discounts.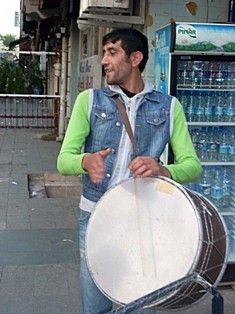 hassan and i take up an easy camaraderie, smiling and joking together, as we wheel my 2 world-weary suitcases the 5 blocks down the hill to our renovated old world apartment, enthusiastically called "galatasaray" (the name of the most popular "futball" team in turkey). after he shows me the pad, not at all disappointing, and sets me up with hot water and a wireless internet connection, hassan walks me through the neighborhood, via the famous istiklal caddesi (independence avenue), the so-called longest pedestrian shopping and strolling street in the world. he helps me buy a turkcell SIM card, and get some local lira from one the plethora of ATM machines along the street. it's a pulsating, modern part of the city, formerly known a "pera", but now known as beyoglu (silent "g"), teeming with everything on display from turkish kebap to global boutiques. from oriental jewelry to western art galleries. from old turkish street musicians playing their classical stringed whateverthey'recalled to modern cyber and CD sellers. everything from simit (turkish pretzels) to humus and baklava, from fresh mussels and chestnuts to cafés, pubs, hawkers, and clubs. maybe the only thing you can't find for sale on istiklal caddesi are turkish carpets. but have no fear, you can buy them on just about any other street corner in istanbul. or... for that matter... in all of turkey!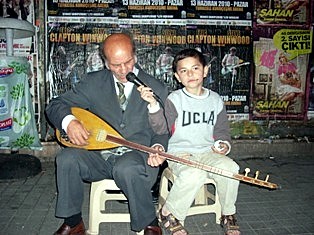 i've taken a little afternoon turk-nap and now i'm back at the airport.... waiting for the wife. i haven't wanted to explore too much without her, so catching up on two weeks of intense focus and creativity in romania has been a good choice. as usual, the wife is almost the last one to de-plane, so we've missed the last shuttle back to taksim at one a.m.. no problem though, we taxi right back to galatasaray, only to find the magnificently night-lit mosques even more impressive than they were during the day.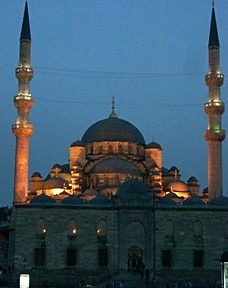 we take a couple of showers, and then hit istiklal caddesi at 2:30 a.m. it too, is even more welcoming than during the day. what can i say? istanbul rocks, relaxes, and reveals herself at night! it's definitely well past curfew for most of the tourist hordes, so all the sidewalk cafes and open air pubs are full of locals, looking more like street and club musicians than every day pedestrians. they're all drinking bottled beer, smoking hand-rolled cigarettes, and chowing down on savory-looking kebap. we join in and order two delicious kebap wraps, one chicken, the other eggplant, as the wife is still strong-willed enough to keep her vegetarian commitment, even in pork, lamb, and chicken-chewing turkey!. we also discover efes brun, a delicious dark beer with the sweet taste of black strap molasses. niiiiiiiice.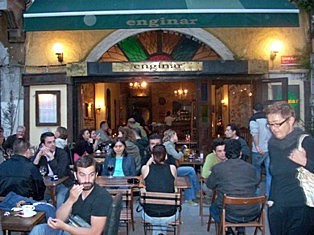 after strolling long into the night, it's now 4 in the morning, but the outdoor cafes and kebap restaurants all along and around istiklal caddesi are still throbbing with life. sure, we're jetlagged and over-stimulated, but we're excited to be here... our first night in istanbul... terminal of the orient express. amidst all the late night revelry and early morning chill, the one thing we notice, even more than the food and the drinks, is... how friendly these istanbullus are. some with english, some without, everyone is smiling at us, toasting us, coming over to shake our hands. they seem genuinely pleased to have us here as their guests. of course, it might be the alcohol or the silliness of the early morning hour, but as it turns out, this is typical of our hosts throughout the rest of our 2 week stay.
we're surprised. maybe because as immigrants across western europe, muslim turks have earned themselves a reputation as unhappy and ornery outsiders unwilling to assimilate into the mainstream culture; but here, in their own country, the turks seem to be confident, gregarious, and completely hospitable. it's just too bad that westerners in berlin... and rotterdam... can't treat them as well as they seem to be treating their guests here on istiklal caddesi.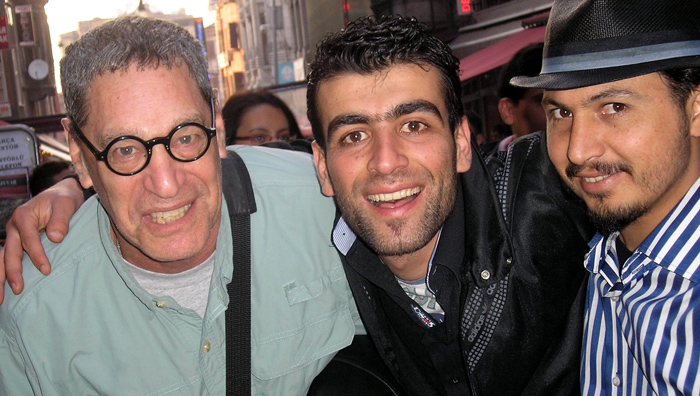 (hey! that's my hat, dude!)
by 5 in the morning, as we're strolling back to our new 1 bedroom "home" in beyoglu, we hear the muezzin's first plaintive call to prayer of the day. yet even with its ritual call to worship 5 times a day, istanbul is perhaps the most secular of the world's islamic cities. this is consciously so, and due to one man, mustafa kemel attaturk, the post-ottoman turkish leader who single-handedly pulled the fallen empire out of its humiliated, post world war one ashes, and into the modern world of the victorious west. after four and a half centuries of mostly isolated, but stable, ottoman rule (one of the longest empires in human history), the ottomans fell, along with germany and the austro-hungarians, in 1917. the new president, attaturk, also an army officer, revolutionary statesman, writer, and founder of the republic of turkey, undertook an ambitious modernization of his country, moving the long time capital from constantinople to a newly-built ankara in the center of the country, and choosing the latin based alphabet (as opposed to the arabic) for its future foundation of a purposefully-chosen, euro-centric "new" turkey.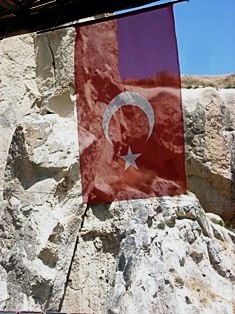 the price of such a choice, however, according to the great, nobel prize-winning turkish novelist, orhan pamuk, a native-born and life-long istanbullu, is that post-ottoman istanbul will forever be a city steeped in the pain, failure, listlessness, and spiritual ennui of huzun, the turkish word for "melancholy". according to pamuk, no matter if, or when, turkey is ever admitted into the EU, istanbul will forever miss its yalis, its splendid waterside mansions along the banks of the bosphorus, built by the great ottoman families during the 18th and 19th centuries, now only decrepit symbols of the obsolescence of a once great empire almost entirely forgotten by modern history. no matter how many tourists pour into sultanahmet to see the giant, oriental "blue mosque" or the labyrinthine ottoman crown jewel, topkapi palace, istanbullus, and hence all their countrymen, will eternally atone for attaturk's act of hubris in creating the new secular turkey, by being ever-mindfully enshrouded in its mournful, yet achingly beautiful, huzun.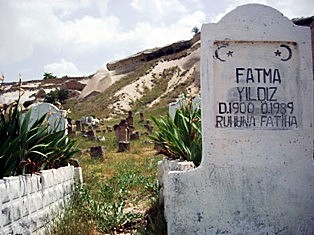 yet now, almost a century later, in the contentious and contemporary 21st century, there appears attaturk's political and spiritual successor, turkish prime minister, recep tayyip erdogan. erdogan, preaching turkish pride and power, at time in the middle east when old arab powers are fading and oil-rich gulf states are preoccupied with the global financial crisis and the prospect of a nuclear-armed iran. erdogan, raising his fierce and fiery voice in response to the killing of 9 humanitarian turkish activists by aggressive (or defensive, depending on your point of view), israeli commandos. erdogan, usurping the islamic world stage from iran's mahmoud ahmadinejad and egypt's hosni mubarek, by embracing gaza's ruling hamas, which clash-of civilization american "ally" still considers a terrorist group. erdogan, whose name is used to name newborn babies in gaza and turkey, and maybe even in the land of former enemy, syria. erdogan, still placing his country firmly on the fulcrum between east and west, neither wanting to lead the combustible middle east nor abandon the mentoring but disapproving west. no, erdogan is truly attaturk's worthy, modern-day successor... more concerned with his eager pistachio merchants and global diplomats than with turkey's ultimate membership in the EU, or the UN, or even in... the league of arab nations.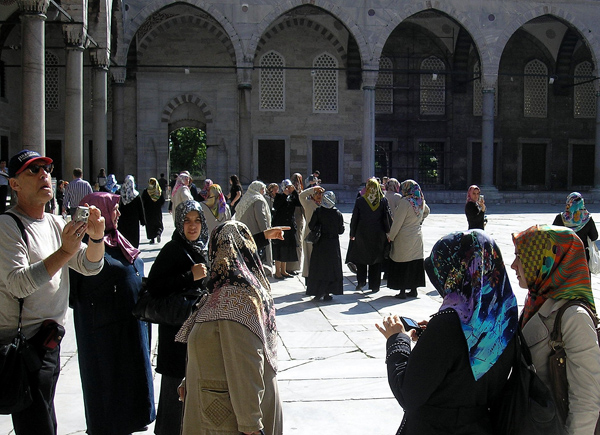 by now, we've been in istanbul for 4 days. on our own. we're practically native istanbullus. we've already bought our turkish carpet from "ali baba" in sultanahmet. we've visited the hagia sofia, the blue mosque, and kapalikarsi, the grand bazaar. we've bought an ornamental and hand-painted hookah (of course, for display purposes only), and the clever merchant has bubble wrapped it to death and sent us packing with a hard tin carrying case. i look like the turkish james bond, semite-style. we've eaten at every food hawker stand who's had an outdoor table to sit at, and the wife has happily scarfed down vast quantities of eggplant, humus, tabouli, tahina, cabbage, zucchini, egg, rice, noodle, and the reddest, most delicious tomatoes on the planet. what next?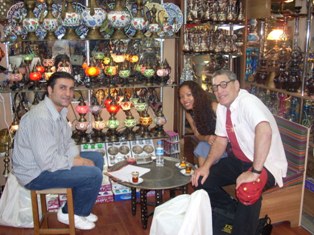 as we're walking along one of the colorful back streets of sultanahmet, i approach a couple of its local-looking citizens. "excuse me, do you know the best route to the topkapi palace?" "sure," the dark-eyed, stocky-looking man in t-shirt and jeans tells me. "it's just behind the hagia sofia. you can see one of the minarets from here." he points just ahead of us. "thanks. are you an istanbullu?" i ask. "yes, but i live in miami now." we laugh, in a way that says, "all roads lead to rome." that is to say... to today's rome... america. "what brought you to miami?" "my family makes and sells carpets." we smile knowingly again at each other. it seems like every other istanbullu we meet, their family "makes and sells carpets". "you want to buy a genuine turkish carpet, my friend?" isn't it amazing in how just a few seconds, a total stranger becomes a merchant becomes your "friend"? "no, i already bought one." "really? how much you pay?" ok, here we go. "ah, not much, just about 100 dollars U.S." "ah, my friend, what kind of shit you buy?" "well, just what i could afford. sorry." "don't be sorry, my friend. turkish carpets are like investments. family heirlooms. they increase in value over time." "yes, i understand, but i'm only a poor university professor. i'm not here in turkey for investment strategies."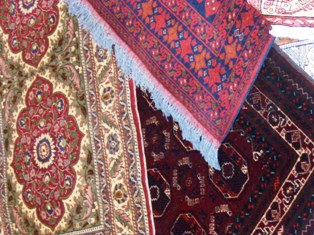 my new "friend" smiles again at me. "where else are you planning to go in turkey?" he must be reading my mind because my romanian colleague at USC, andrei, has told me, "if you go to turkey, you have to go to cappadocia." "well," i say to my miami vice friend in a tee, "we were thinking of going to cappadocia." "excellent choice. it is very beautiful. you have never seen any place like it in the world." "that's what i've heard. it has 'fairy chimneys' and you can stay in a cave." "yes, it's true. in fact, i am owner of a travel service. very inexpensive, my friend." here we go again. "really. how much?" "let me call my cousin. he works for me. he will give you a very good deal. his name is jihad." "jihad?" i say incredulously. "ha ha. no, not ji-had. chi-han." my new "friend" whips out his cell and in five minutes chihan is here, ready to peddle us a package tour. "well, maybe later. we want to go to the hagia sofia first." "my friend, my friend," chihan croons, "the church is closed for lunch in a few minutes. come over for a cup of turkish coffee or tea. it's very warm out. you can relax and go to the church after 3 o'clock." what can i say? i'm being made an offer i can't refuse. not in sicily, but right here in sultanahmet.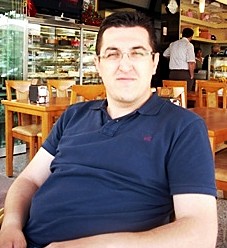 chihan sites us down and over 2 strong cups of turkish coffee and iced chai tea, he explains our options to us. "well, it depends how you like to travel. do you like group tours? saves a lot of time and money." "not really, chihan. we're sort of the independent types." "ok, great," he says enthusiastically. why am i so positive that he's sat across this same desk before with just about every kind of gringo traveler there is? "we have the independent travelers' package. how many days?" "i don't know, chihan. i guess about a week. we have to fly home from istanbul on june 5th, early in the morning." "no problem, my friend, where would you like to go?" "i don't really know, chihan. i know we'd like to go to cappadocia but that's all. i haven't even read my guide book." "no problem, my friend, have you ever heard of pamukkale?" "no, chihan. i haven't. why don't you tell me about it?' and with this open invitation for the turkish hard sell, i know i'm sunk. we're gonna walk outta here with an "independent" package tour.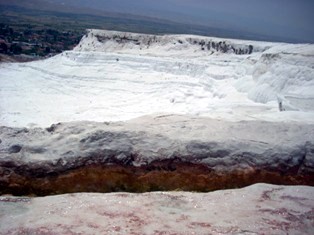 "look at that," the wife says incredulously. "it looks like snow. isn't it too hot in turkey?" "yes, you're right," chihan says picking up on her cue. "those are 'cotton castle' cliffs made of white calcium. you can go swimming in the fresh mineral springs. it's one of the most popular places in all of turkey." chihan sees my independent spirit frown. "i mean, it's one of the most interesting geological sites in all of anatolia." jeez, this guy is good. and within the next 40 minutes, after another 2 glasses of iced chai tea and turkish coffee, chihan has printed out our itinerary for the next 8 days: 3 days of fairy chimneys and cave dwelling in cappadocia, 2 days of some seaside relaxing in a backpacker hostel in olympus on the north shore of the aegean, a day and night in the aforementioned calcium-coated pamukkale, an overnight in ephesus, the largest roman outpost in central asia, and a hop back to istanbul for our early morning plane on the 5th. ok! bye bye, istanbul. hello anatolia!!!