chapter 3, kapadokya

taking the road less touristed
may 29, 2010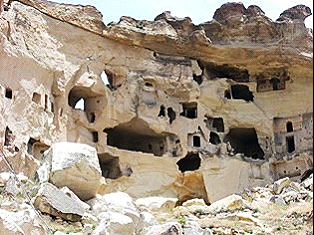 still goreme, turkey
ok, back from our hot air balloon adventure to oz, what next? oh... it's friday, it must be the green tour of kapadokya. or wait... maybe it's the red tour? but actually, what the hell's the difference? i mean, it sure seemed like a good idea when we signed up in istanbul... the best way to cover a lot of turkey in just about a week... but getting on and off a mini tour bus, 10 times a day, with the same united colors of benetton tour group, is not exactly our idea of a good time. maybe we shoulda gone by camel.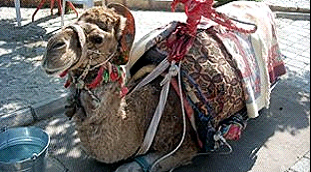 ok, ok, no more complaining. get on the bus, dude!
our 1st stop... "love valley".... as you can see, appropriately named.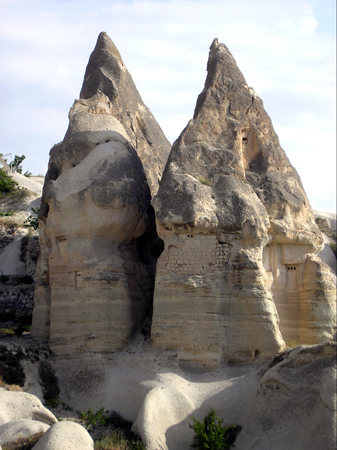 ...for its large, phallicly-suggestive scenery, sensuously sculpted into the giant folds of the soft kapadokyan rock by wind, water, and volcanic eruption over the many centuries long before the hittites first ruled central anatolia.... almost 2000 years before christ.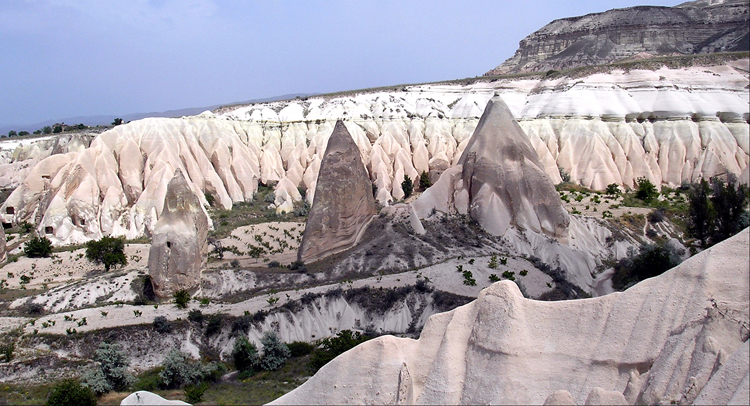 next is the aforementioned "rose valley", so named for it's rose-tinged peaks and palisades. lovely, eh? sure. but maybe i've already been seeing the world long enough through rose-colored glasses... or perhaps, by noon, i'm already sick of the on the bus-off the bus routine, but it is here, in the lovely rose valley, that your humble narrator makes his decisive mis-step...
you see, the gang (our small tourist horde) is on a group hike through rose valley. da wife is up front... she loves to hike. not me. i've fallen to the back of the pack with a professional photographer from canada who has taken out his big lenses for both close-ups and telephotos. lots to see and shoot here in the turkish desert. but after a few moments of lax enjoyment, big photo-mon scurries up ahead to make sure he doesn't "get lost". "lost?", me thinks. in the kapadokyan desert? how lost can you get? or better yet: as cool-hand chet baker, the dreamy, heroin-addicted bebop trumpeter, would always sing: "let's GET lost."
ok. mission accomplished. i'm all alone in the kapadokyan desert. but first things first. i have to take care of business... by unzipping... and doing my ever-embarrassing pee-in-public routine. i don't know why, but i've never gotten over it. ever since high school. it just feels so.... anti-social... and liberating... both in the same exact moment. guys, you know what i'm talking about, right? the problem is... as is often the case in adolescent fantasies... i've wet my pants. all around the fly. and down the right leg. i can't exactly catch up to the group and say, "here i am! look how i've pissed myself!"
so... i hang back, just another moment, to let the arid desert air take care of my problem. i veer off the dusty dirt road, into the even dustier, soft clay hills, and i start snapping pictures voraciously: flowers, vineyards, soft, wind-carved rock....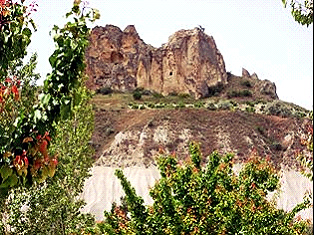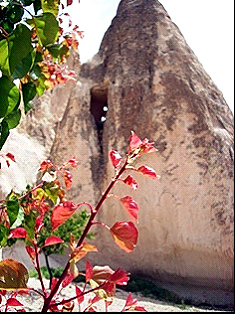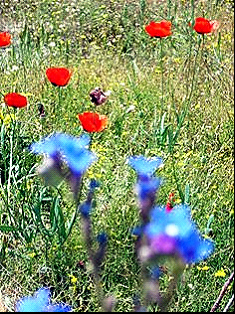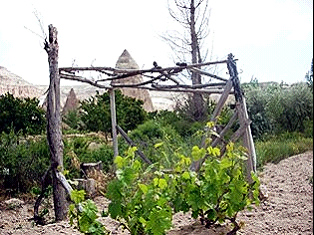 nice, huh?
i'm at one with the desert. at one with the sky. and the soft clay under my feet. at one with the slow-growing grapes. and the long-dead tree stumps. i don't need to be anywhere else, thank you... but right here. please, louise, no more tour groups for me. this place is old enough and inspiring enough, just as is. i mean, ancient akkadians and old empire persians, led by darius and xerxes, have tramped right here - 6000 years ago. the land is as old as mesopotamia, spoken of in the bible and the new testament. it has been peopled by the greeks, the romans, the jews, the christians, and the last to arrive, the omni-present, muslims. where else do i need to go to be in touch with history? with humanity? with connection and transcendence? yeah, chetie-baby, let's get lost...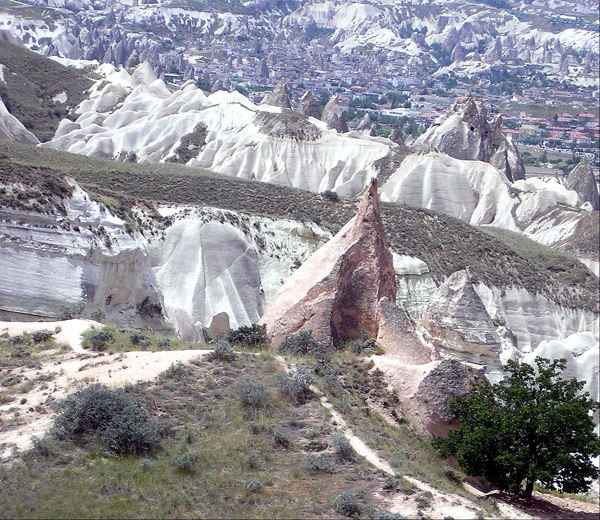 whoah. i'm lost! i've lost track of.... everything. i don't know how long i've been in this state of mindless reverie, before i figure, "my pants are long dry... time to catch up with the group." i slowly veer back on the dirt path towards convention and rationality, and i forage ahead. ohhh shit... lookee there... there's a fork in the road. i haven't planned on this. i have no idea which way to go. if i go to the left, look... i'll climb a steep path to a spectacular hilltop view. but hell, i hate climbing steep inclines, and the view is awesome enough from right where i already am... in the middle of the friggin' kapadokyan desert. how much better does it need to get?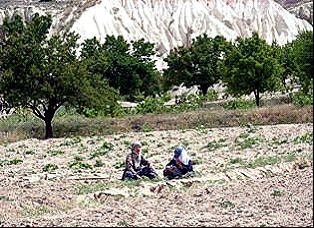 on the other hand, if i go to the right, the hand-scrawled sign says i'll end up at a christian cave church. cool. i haven't seen one yet, although i've read all about them: amazing hand-painted frescoes of jesus and mary... and mary and jesus. you know the liturgy. hell, yeah... to the right then! but... what if my tour group went to the left... and they come back before i reconnoiter back from the right? at best, i make them wait for me. i can just hear them, collectively muttering under their impatient tourist breath: "inconsiderate american narcissist, looking out only for himself". not a good option. at worst, i can hear them say out loud "fuck that inconsiderate american narcissist. leave him in the friggin' desert. see how hip he is after 3-4 hours with no food or water." not a good option either. but then... i suddenly remember my trump card: da wife... always ready to come to her idiosyncratic husband's defense and rescue. then again, as the fat man from new 'orlins always said: "one never knows, do one?"
but i'm not worried.
i take out my trusty cell... with my trusty local SIM card. "hey, gihan. howse the weather in istanbul?" "where are you, mr. trules". "i'm lost in the kapadokyan desert, gihan. how are you?" "what are you talking about, mr. trules?" gihan's concerned. i'm not. "what's the name of my tour guide today, gihan?" "uh.... just a minute...(beat) ... it's... murad." "what's his number, gihan?" he gives it to me, relieved. "don't worry, gihan, i'll take care of it." "ok, mr. trules, tell him you'll meet him at the walnut grove café. it's straight up ahead through the town." "no problem, gihan. send my regards to taksim square!"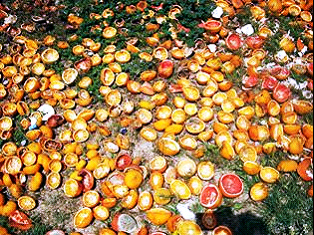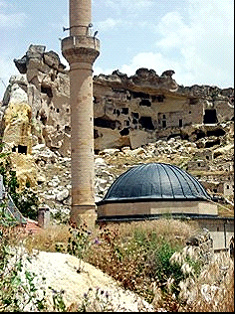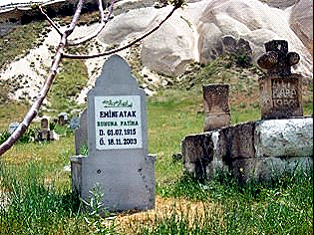 i snap a few more shots as i leisurely wander towards the one-mosque town up ahead: a citrus recycling farm. the singular mosque buried deep within the surrounding cave dwellings. a local graveyard...
"hey, murad. it's mr. trules." "yes. how did you get my phone number, mr. trules?" "i'm smart, murad. didn't my wife tell you?" "yes, mr. trules, she did. she said not to worry. you often wander off by yourself." "that's true, murad. how 'bout if i meet you at the walnut grove café?" "yes, that's fine. we'll be there in about 35 minutes." "ok, murad. not to worry. keep smiling." "yes, mr. trules."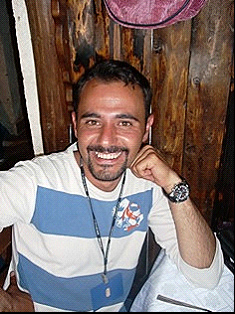 true to his word, murad is smiling when he rounds up the thirsty tour group at the walnut grove café. even da wife is smiling. apparently, she's becoming more and more inured to my eccentric behavior after all these years. so much so that she doesn't even choose to exact a pound of flesh from me for embarrassing her in kapadokyan public. ah... the fruits of marriage and maturity...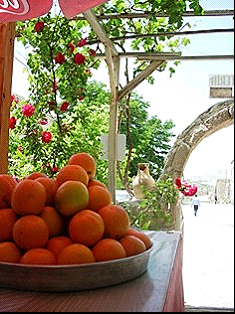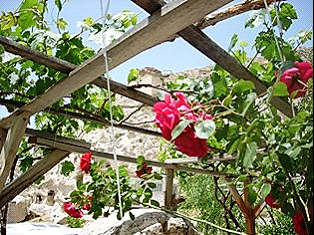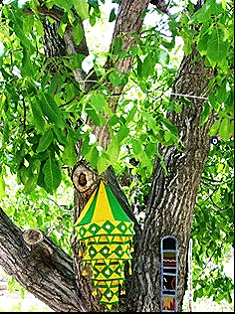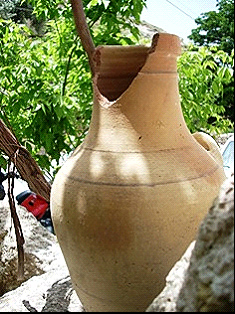 the walnut grove café is a real jewel, sitting placidly in the middle of this arid desert. i sit with da wife, away from the small tourist horde, and we freshen up at the oasis with some freshly-squeezed orange juice, a little eggplant humus for da wife, and some iced coffee for me... which i once again have to coach the proprietor through making: "just half a cup of coffee... a separate, tall glass of ice, and i'll mix them together with massive amounts of sugar and milk. ok?" you can only imagine the looks i get, each and every time. apparently, the iced beverage just doesn't exist in most parts of the mediterranean world. c'est domage.
never mind. i'm used to the stares. but right now, my eyes are turned to the hills... all around the walnut grove café. they are overflowing with a canvas of christian caves, some, historical tourist sites, others, the homes of old timers still living in the pre-1917 ottoman style.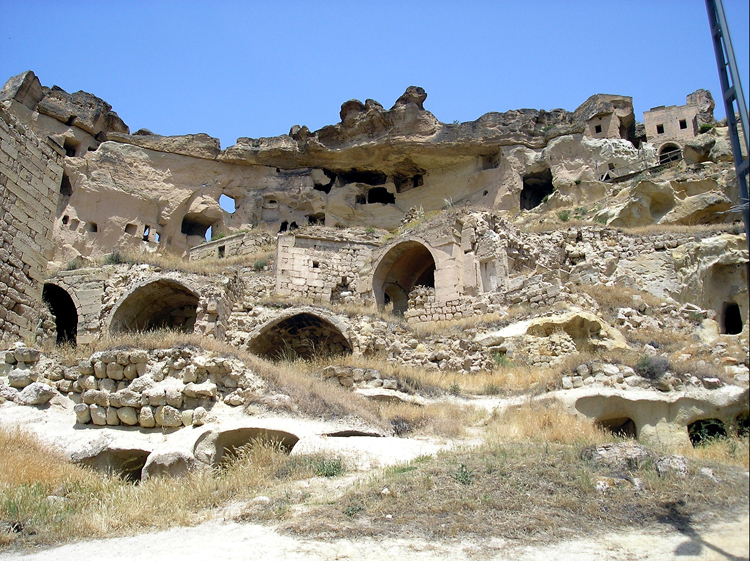 once again, i wander off towards the good stuff, while da wife hits the rest room (no sitting toilets) and the tourist hordes continue to freshen up.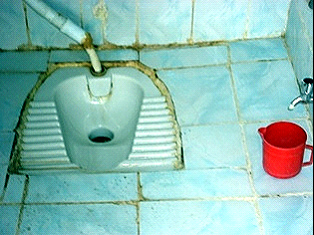 before i know it, i'm lucky enough to wander into the cave home of mr. abdullah abdullah, dressed in the authentic attire of a ottoman prince from well over a century ago.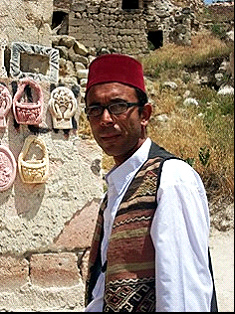 not only does mr. abdullah let me photograph his home, his kitchen, and its old school utensils, but he is rewarded by my buying 2 arabic-singing CDs from him, right from his dusty, in-house private collection. sure, they sound scratchy when i buy them, and of course, they don't play at all when i bring them home, but hey, the good will that i buy with them for 10 lira, is more than worth the exchange.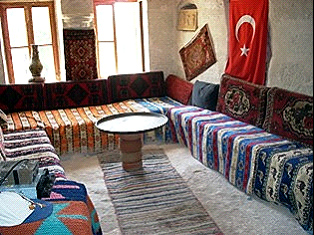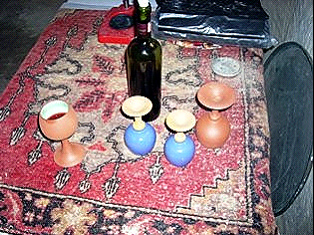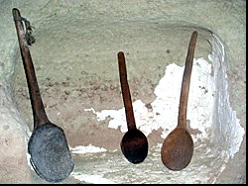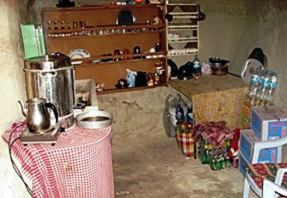 ooops. i've lost track of time. again. "sorry, mr. abdullah, i've got to get 'back on the bus'". i jog over to the walnut grove café. there's not a soul there. not even da wife. where is she? has she finally given up on the old man? i trot, even faster, over to where the bus should be. and there's... murad... standing by the open door... waiting for me. along with... da wife. "c'mon," murad says. "hurry up"! the wife seconds. i do and i do.
and i'm "back on the bus". with the small tourist horde. unhappily... but i'm back....
... ready for my next pre-programmed adventure... to the touro-centric, over-priced ceramic factory. then to the tasty, touro-restaurant... and then finally... to an authentic, underground byzantium city in kaymakli, built by clever, but still cowering christians, before asia minor was settled by post-empiric romans, and the life of jesus of nazareth was both canonized and packaged throughout asia minor.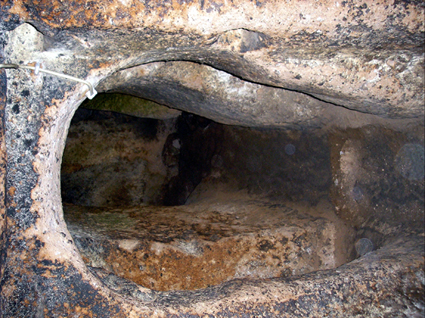 out of the cave..... back on the bus.
back on the road...at least for me....
the road.... less touristed.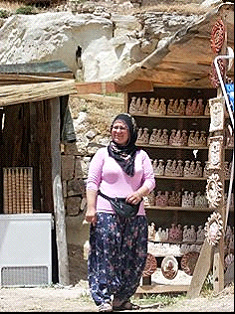 ole ole enfree,
from da land of evil eyes,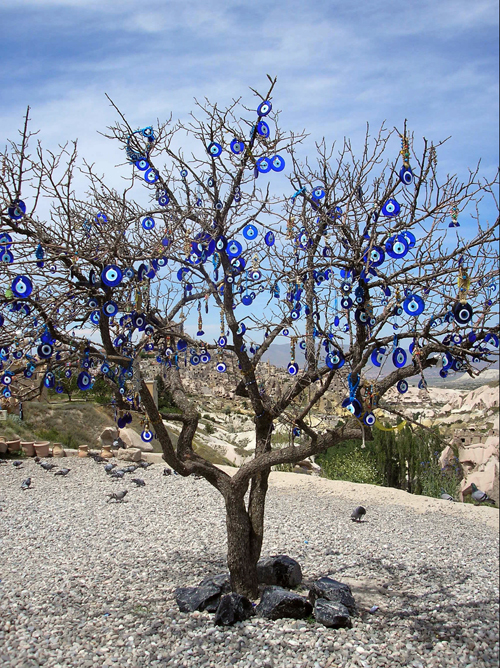 -the kapadokyan kid