« two tall fish tales »





---
---
---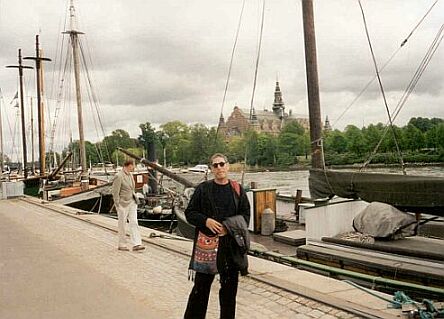 ---
---
---
6/1/2001


stockholm


well, well, it's a new month – june - supposed to be summer – but it's still stubbornly colllld in scandinavia. i've just entered another time zone and scandic world - sweden - stockholm to be exact - via the big, bad, boring floating tourist hotel – the eleven hour, fat cat scenic cruise ship from western finland – through the gorgeous turku archipelago - across the stoic baltic sea…


but first a little update-


sorry i've been slightly tardy in my up-to-the-moment news report, but i've been out in the sticks again after 4 bar hopping days back in helsinki. how do i report on the bar hopping and casual liaisons with drunken finns inebriating themselves senselessly until 4 in the morning when the bars spill them out into early morning light, men and women staggering in a criss cross turkey-legged dance home, crashing into each other, lampposts, guys looking for fights, girls looking for –


anyway, it's the most drunken culture i've ever seen. they say it's the darkness and bleakness of the nordic winter that accounts for the somberness of the culture - looking to free itself in alcohol. but i don't know, it's pretty bright and spring-timey out these days, and the finns are still drinking and staggering home. the women - who are known for their independence, strong wills, and beauty - it's great to see them drink with each other - in groups, in twos, right there with the men - getting plastered and free, no need for flirtation or male attention of any kind. and as drunk as they get, at least they don't break bottles, urinate in the streets, or go looking to punch your lights out if you accidentally brush against them on the way home. in fact, quite the contrary (i hear...)








anyway, fish tail #1: i'm staying with my israeli hosts, maya and raphael, in helsinki again, and they've arranged for a little international picnic - 75 km out in the countryside with their diplomatic friends. i ride out there after three bar-hopping hours of sleep with the israeli ambassador and we talk about - you know - things diplomatic: the weimar republic in germany before the war, it being the medici-florence of its time - artists, culture, patronage, and you know - the up-to-date israeli-palestinian situation, and - amos oz, the highly esteemed israeli novelist and essayist, and his au courant daughter's new book on israelis in berlin. but biensur, the usual international small talk. and then we get to the picnic site - it's a fish farm, a man-made lake stocked with thousands of fresh water salmon. and we each pick up a long wooden pole, put a piece of playdough squooshy bait on a bare hook, cast it about two feet in front of us, and voila – fifteen seconds later we have our lunch on the line - which we then have to beat senseless (!!), take off the hook (the two hardest jobs), and an hour later, we have our incredibly delicious (cooked for us) smoked salmon meals, complete with diplomatic made-at-home salads, breads, beers, wines, etc. no complaints on my part, of course. it's the civilized, no fuss, lazy-man's kind of fishing and dining i like. tres simplement, n'est-ce pas???








fish tail #2: i'm in the turku archipelago, southwest corner of finland. i'm on kemio island, one of the 20,000 in the archipelago, islands still rising from the sea, released from the weight of the retreating ice age, and i'm staying with jari and taria, a 30 year old blacksmith goatboy and his fled-from-helsinki naturalist girlfriend. it's a run-down, but fabulous, wood-heated, burnt red farmhouse featuring two well-loved female goats who jari treats like best friend dogs. the girls jump on his chest, bleat with erotic goat pleasure, and climb jari-built hills in the fenced-in goat yard. he milks them with equal pleasure, and makes goat cheese, feta, home made everything...


out in his faded red barn-turned working blacksmith shop, custom-designed with hand-pumping bellows and red-glaring coals, jari earns his meager but wholesome living pounding out old style, flat head nails for the town's historical church restoration project. or repairing a rusted out sink, rotted pipe, or kitchen plumbing problem for his isolated kemio neighbors. the day i visit, he has two groups of chatty adolescent secondary schoolers come out and take a look at his blacksmith shop. a few of the boys seem to be really into it, while most of the girls poke their head in, but seem to prefer hanging out in the goat yard chit-chatting and gossiping about things teenage girls must gossip about all over the world. after they leave, jari generously takes the time to forge me a small but beautiful leo astrological wrought iron symbol. he doesn't want any money, just a book of my poetry in exchange. the leo iron symbol now follows me around the world in my israeli fanny/waist pack – along with my swiss army knife and the never-know-when-you're gonna need one – toothpick - from the forests of karelia.








and now the fishy part: we drive in jari's squealing multi-purpose blacksmith truck to the sea (baltic again, folks), and jari and taria dress me in a set of serious, but comic-looking, foul weather gear - rubber pants, rubber boots, sammi mittens, ski cap, three wool sweaters… the whole finnish nine yards. i'm ready... we go out in a small, maybe 10 foot, wooden motor boat with taria skippering. jari takes us to the place he's cast his nets. the sea is pretty calm, there's no icy wind, and i'm hauling off sweaters faster than jari is maneuvering the boat or manipulating his knife. then – one after another - we (he) hauls them in. some nets are empty, some full - of perch, pike, salmon - other varieties i've never heard of. it's a little different than the diplo-lunch fishing trip. no squooshy playdough bait. no pole in-fish out in fifteen flippant touro-seconds. this guy knows how to FISH - where to put the nets, what depth, what time of year, he's a FISHERMAN.


we drive back. dock the boat. pack up the nets, gear. go home. clean up. jari builds a wood fire in a dirt ground pit, awkwardly balancing an old iron pot on top of the wood. he tosses some grated aspen chips into the pot for tasty smoking, and an hour later…. we have -- the most -- smoked, burnt, overcooked fish you ever saw. it seems jari has been getting too much pleasure out of the goats and has slightly forgotten about the poor fish. never mind, not to complain. it's been an experience. taken about seven hours to catch and prepare this single meal, not counting the casting of the nets the day before. we've hung the nets out to dry, gutted the fish, smoked them, burned them, and even - with great humor - eaten them.


which fish-tale meal was better, you ask? well, that's a matter of choice. whether you like the getting there - as opposed to - the arrival - at the destination. me? i'm all too familiar with trader joe's (LA's everything prepared for you trendy super-market), so i go for a little baltic-goat adventure every once in a while…. although i have to admit, a nice finnish diplo-salmon picnic can't be beat every now and again...


besides, there's hardly ever a better or worse when you travel, it's all - just - experience. stay open, and enjoy...


but now -- enough -- out into a bright blue sunshiny day -- in stockholm, don't you know.


wish you were here,


erik the fishmonger





---
---
---