« santa's surprise – ja-vaaaaaa »





---
---
---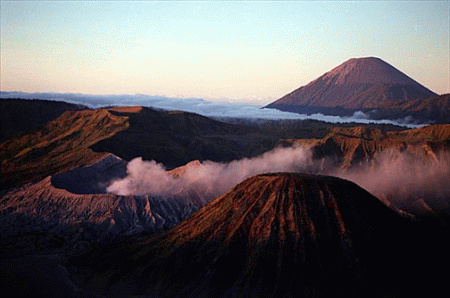 ---
---
---
december 18, 2001


bandung, indonesia


selamat pagi, teman teman
(good morning, friends)


c'est moi, your trouble-shooting cock-eyed adventurer. on the island of java! paleolithic home of the original prehensile "java" man. monkeys fucking on the side of the road. dark, sweltering green jungle canopies making even day time into a deep-shadowed jungle adventure. brilliant torrential monsoon rains - for hours on end – drenching and nurturing endless rain forests of aboriginal indonesian paradise.


hell, i thought i bought a ticket for a nice tame, sanitized christmas holiday in nice, tame, sanitized bali -- well-traveled island paradise of westernized white tourist beaches, manicured green terraced rice fields, and comfortable ten dollar a night hotels avec glistening and inviting azure blue swimming pools.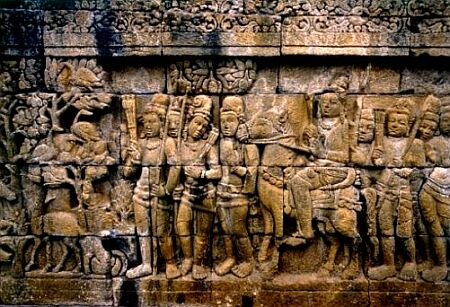 but somehow -- je ne sais pas -- i find myself on the anthropologically mythic island of java. about a two day, twenty hour primitive bus and boat ride from the above-mentioned sanitaria. local mini-bussing my way west across the entire non-tourist width of bali. from denpasar to gilimanuk. mine the only "muka putih" (white face) staring out the untinted windows at mile upon mile of gorgeous just-planted, deep green, terraced "padi" fields. mine the only "pantat putih" (white ass) seemingly enjoying the smooth sailing, rain-drenched ferry barge from gilimanuk to ketapung in east java.










four days ago, i rode a horse up to the top of an active volcano. and i do mean "active" -- a major eruption just seventeen days ago. black ash raining from the sky like indonesia's modern day armageddon. locals walking around day and night, their heads covered in towels. entire crops covered in ash. sonic booms chattering like fireworks from dodger stadium on the 4th of july - or like saturday night specials from echo park. i had no idea what i was blindly stumbling into when i got off the night bus. the place had been closed to the public until three days before i arrived. with warnings from the jakarta daily news as a mandatory place to avoid. but - here i was, up at 3 a.m. for the sunrise volcano tour, walking horses up the volcanic crater, ogling billows of black furious smoke erupting from "mount bromo", like from the mouth of a sacred or war-torn holy ground, like from the serpentine multi-arms of the angry hindu god, vishnu, or like from the muzzle of some militant indonesian muslim on his mad anti-american jihad.










oh yeah, that too. about a day after i arrive in bali, i find that there's a "travel advisory" from the US state department for all of indonesia. as in: "well, it's your decision but ---". and just three weeks ago there was a "sweep" of hotels in solo (home of the java man) for all resident americans. needless to say, i reluctantly decided not to go to solo, but instead took aim at yogyakarta, the heart of hindu and buddhist ancient civilization in indonesia. because hey, most of these scare tactics are overblown anyway. i mean, LA, don't go: fire, flood, earthquake & riots. right?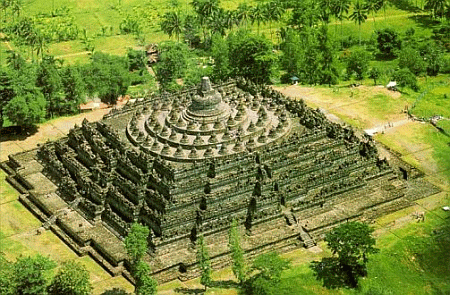 anyway, here i am. yogya (pronounced "jog-ja"). saw the great buddhist monument at borobudur, the largest buddhist temple site in the world and one of the seven wonders of the ancient world. came at 6 am. walked, climbed until the heat of the day became too much. terraces, chambers, lattices, stupas, thousands of carved images of tales of buddha along the stone walls. the place is more a city of temples, like angor wat in cambodia, than a single thai wat or chinese temple. built in the 9th century AD, and since restored with twenty-five million US dollars (finally something american i can be proud of), it's always amazing to imagine the vision, ambition, perseverance, and heartlessness of the emperor, sultan, pharaoh, or king who had places like this built – the egyptian pyramids, the great wall of china, the aztec or mayan temples in mexico… the american cross country railroad. so many years. so much sweat, labor, pain, and sacrifice. so many lives lost. the price of immortality…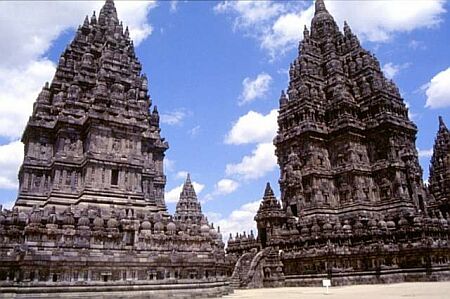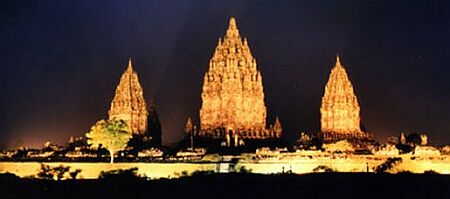 the same with prambadan, the largest hindu temple complex in java. merely a stone's throw from borobudur. same 9th century construction. maybe fifty years later. like one religion's vanity and pride responding to the other's. nevertheless, an awesome place to see flood-lit at night, under a full moon, after spilling out of prambanan's great ritual performance of the ramayana ballet. heroic rama, faultless shinta, crafty gareng, comic petrok, fifty more stock characters, and the monkey king himself, hanoman. these same hindu characters reappearing in one theatrical or literative form after another: india's mahabarata, indonesia & malaysia's "wayang kulit" (shadow puppet performances), bali's stylized and ritual "lengong" dance, and here – the classical ramayana ballet.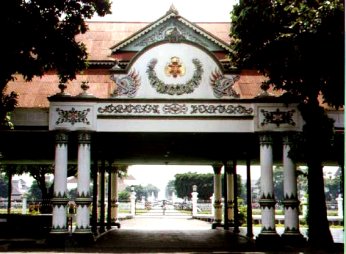 over the next few days, i make trips to "kraton", the walled city palace of the mid 18th century sultan who bargained with and survived the dutch, and whose offspring still reside there and rule as current sultan. to "taman sari" or water palace, where the sultan entertained his guests and kept his harems of women. to the "sono-budoyo" museum, where i see a wonderful collection of javanese art: beautifully-dyed batik clothing, finely-carved shadow puppets made of both buffalo hide and balsa wood, wicked and cunning "kris"es, long, sharp curved knives, prized as family heirlooms and storied to have taken revenge on many an unlucky javanese lover or thief. i see "topeng" masks, and bird markets, and courtyards filled with colorful hindu statuary and ornately-carved chariots of the royal families. i eat delicious indonesian satay with peanut sauce, buy everything i can stuff into my bulging bags, and bring back an indonesian gamelon tape that i bargain for at borobudur's tiny neighboring temple, "mendut".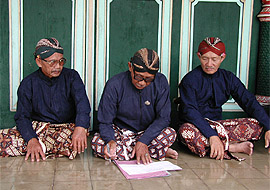 credit: www.indonesiatravelplan.com


only having two and a half weeks left on my whirlwind christmas tour, i make my way from yogya to pangandaran, java's tiny little fishing village but most popular beach resort. i take the adventurous backwater route from kalipucang to cilacap. it's a great trip through small local villages in a rugged thirty foot tug packed with locals headed to market or back home, and i buy pepsis (their choice, not mine!) for a whole family of seven, just because i fall into the moon eyes of the silent but lovely five year old daughter.


pangandaran looks a little touristy, mostly locals, but still touristy, so i head four kilometers out town, along the black sandy beach to cikembulan. i've heard about an offbeat guesthouse there called "gecko village" from two dutch travelers i met at borobudur, and what with my love of the diminutive but pervasive singing lizard, i decide to give it a try. i arrive late evening, and yes, it is a little offbeat, but totally charming. each two-storied bamboo bungalow is unique and has been hand crafted by the owner, a dark skinned, slight-but wiry built painter with picasso eyes and an excellent touch in the kitchen. "augus" can arrange for anything you want, and although his gecko village has fallen on hard times with indonesia's economic crash in '97, he still makes every meal into a fun-loving communal event and gets everyone singing songs and telling stories from their native lands by the end of his delicious catch-of-the-day barbecue.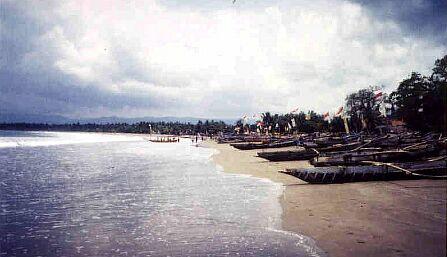 the next morning, after breakfasting with robert from england and two newly arriving girls from australia (yes, this is a real backpackers' hangout), i make my way down to the beach. the only dark chocolate sand i've seen before was at coral beach along the atlantic coast of florida, but here i am in the on the southern shore of java, wading into the bathtub warm indian ocean, completely alone, a speck in the eye of the cosmos. it reminds me of when i was a teenager back on the south shore of long island, at jones beach's west end, and i let the lot-colder atlantic ocean crash over me, again and again, at the shore. me - completely passive, being tumbled and somersaulted over and around like a giant piece of kelp in an endless oceanic washing machine. no will. no resistance. just pleasure. and a lot of salt water up my nose and ears. now here i am, forty years later, in another hemisphere, perhaps in another incarnation, definitely in another ocean altogether, this time alone -- being tossed and turned, tumbled and somersaulted by the rhythm of the crashing sea. no will. no resistance. just pleasure. it's another perfect moment. that only the wayward wind of travel can afford. at the gecko village. in cikembulan. java. indonesia. and nobody knows about it but me…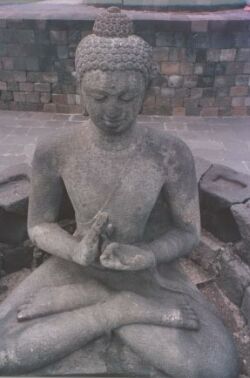 augus arranges for me to rent a motorbike in the early afternoon, and i twist and turn my way through the outskirts of pangandaran. leaning into the humid greenery , breathing in the sweet-smelling coastal air, i follow a specially drawn "private" map that augus has made just for me. his artist-drawn directions are perfect and they lead me to a way-off-the-beaten-path river swim spot. i take off my clothes and swim to my heart's delight. just me, the birds, the bees, and whoever else's eyes i can not see. after sunset and another communal barbecue with special treats thrown in along the way, i get a two hour javanese-style massage for four dollars by a sixty year old woman with only about half a set of teeth left in her mouth, but with hands as strong as iron. i fall asleep like a log about five minutes after she leaves, only to be awakened by an army of small but tenacious ants – in my boxer shorts – about five hours later. i scream and curse at the entire army, as i swat, crush, and pick them out, battalions at a time. i hop down one curved wooden flight of stairs (ouch!) to the cold water "mandi" and pour buckets of water over the battleground from a red plastic bucket – until i'm entirely convinced the army has been thoroughly defeated and not a sole survivor left in the thickets of my pubic hair. as i said, gecko village – charming, but offbeat.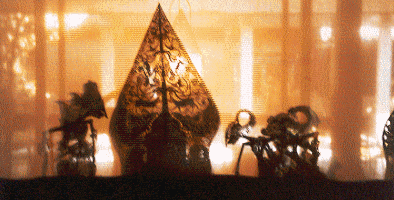 from users.swing.be/indonesie/orange.htm


anyway, here i am on the island of java. totally unplanned. completely unexpected. half of me is excited as hell. the other half hears a voice in my head. it sounds a lot like ollie berating stanley, "another fine mess you've gotten us into". not true, the other half is excited too…


if you don't hear i'm back in LA on january 6th, please send a search party…


until then - or - our next cyber talk,


your vicarious thriller,


sayang wayang




---
---
---