« finnish lakes and forests,
on the road north »





---
---
---
---
---
---
may 23, 2001


terve amigos, (hello)


see. i'm getting more finnish by the moment. out in the cold wet beautiful countryside for three days now. staying in the primeval finnish forest with a friendly but taciturn married couple of eco-biology researchers, trying to figure out which protozoa and nutrients are best for organic farming. driving a red box fiat punto through hundreds of kilometers of white birch, scotch pine, and santa claus spruce forests. through peaceful riverside towns called kotka and porvo. getting only the quickest glimpses of charming finnish towns named kuovola, lahti, mikeli, lappeenranta. farmhouses. boats. churches. country living. its human colors -- mustard-honey yellow, teal blue, deep barn red - in homey finnish design contrast to the evergreen of the omnipotent forest. cold green grasses and trees, so pure, intense, and vivid, not nearly as jungle deep and exotic as humid, sweltering asia.




in fact, you couldn't find a geography and people as different from southeast asia. being a tourist here is a complete contrast. first and foremost, i don't look like a tourist. people talk finnish to me. there are no hordes of backpackers. you are not swarmed at the bus or train station by third world touts and solicitors. you're greeted and treated like a human being, not like a dollar bill. there has been no war here. there are no limbless beggars on the streets, no roar of the omnipresent and annoying motorbike. there is open space here. lots of it. it's vastly UN-populated. i'm not staying in hotels, but with people again, families. (my wonderful "servas" organization). not possible in southeast asia, where people are so poor, homes so small & overcrowded. it's a much more equal, interpersonal kind of communication between cultures here. "first" world. it's cold and wet, totally different than hot, hot, hot, and humid,. no jungles -- but -- forests. can you imagine?




my first evening i was invited to help collect mushrooms in the beckoning finnish forest, the absolute quintessence of country living in scandinavia, russia (i'm only 80 kilometers away), the baltics. very tricky business though. hard to spot in the darkness of the black peat soil. you collect and eat the wrong ones, and they're your last. but pick just the right shy, savory ones, cook them up for dinner, and you feel like a hardy local gourmet.




next day, walked for hours in the quiet of the forest's carpet. surrounded by nothing but lakes, trees, and sky. the sky white, all day, all night. except for occasional bursts of shocking scandic blue during the day, when the sun forces its warmth through the thick cloud cover. it's still cold here as you travel north - maybe 40 degrees fahrenheit. but it feels great. fresh. stimulating. part of the magic. you can see and feel why the finnish forest is the land of goblins, trolls, spells, and faerie tales.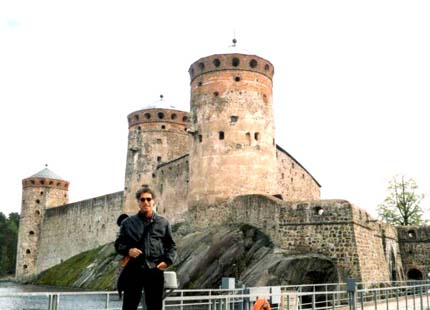 yesterday i saw the medieval castle of saint olaf in savonlinna (olaf being a thick-headed and wild-bearded invading norse viking, who, after marauding & pillaging the finnish countryside for years, somehow miraculously converted to catholicism, whereby centuries later, he was duly, and no doubt, enthusiastically, canonized). his pad looks like a mini edinburgh castle - very brutish and beautiful both, carved out of the rock promontory itself in 1475. fought over by the finns, russians, and swedes for centuries. the castle's resident women actually had to barricade themselves behind their roughly-hewn wooden doors inside freezing stone cloister-prisons to protect themselves from their own, constantly drunk hero-soldiers. history!! king gustav of sweden, the 16th & 17th century being sweden's dominance of finland. peter the great. the 18th century – russians, novgorods, hanseatics, vikings, danes, a whole new vocabulary of history for me.




then to the museum of forestry - another unique scandic universe unto itself. the felling of giant trees – millions of birches, pines, spruces - pulling them overland by horse over frozen tundra, floating them up/down icy river networks, logjams, tugboats, sawmills, paper, cardboard, spool thread, matchstick industries. the planting, thinning, seeding of trees – for thousands of kilometers, for hundreds of years. rustic daily living in the forests, outhouses, frozen winters, crackling saunas, midnight suns....




then to punkaharju. accent on the 1st & 3rd syllables. eg. kurkimaki, maatalouden, savonlinna. made the seventeen mile carmel drive look/feel tame, over-manicured, amer-civilized. here - crawling up and down this narrow roadway on the "ester" of punkaharju, carved 70,000 years ago out of the last retreating ice age, looking sharply down on both sides of the road into the glistening, sun-reflecting lake from the steep slope of pine forests. getting out of the little punto, breathing the pure cold air of karelian (southeast) finland. something you don't forget.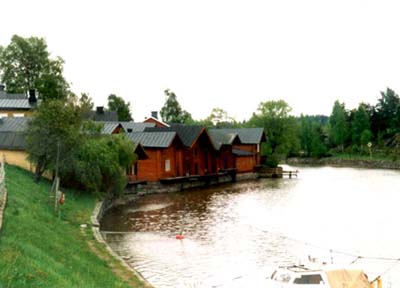 next -- off to the central west coast. maybe a 400 kilometer journey through more endless forest and lake. getting off the highway to twist and turn nonchalantly around the edges of the multi-melting lakes and streams. lonely wooden boats waiting for the thaw. stark, thick-trunked white birches leaning in the wind. cold, cold water running again with the coming of spring. a white pike lunch break and a comic encounter with the local police in jyvalskya (see photo). a requisite stop at the alvar aalto museum there, honoring and learning about this world class architect who most of us myopic americans never even heard of. clean, spare, original - the father of modern and contemporary scandinavian design (see photo).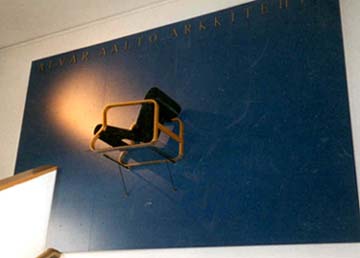 then through kuopio, all the way across the country to the top of the gulf of bothnia. to oulu. up to the southern reaches of the arctic circle. looking across the baltic to sweden. staying with another servas host, a hearty local finn, thomas, his british wife, sue, and their two boys. on one of those stark looking, barn red and trim green farmhouses. my quarters that of the rustic farm workers. perfect though – the cold night air, the glittering-starred sky, the slim cot, and the way too-hot wood-burning sauna – my first. the four of them all having a good laugh at my squeamishly low tolerance for the intense dry heat and my clown-like, naked flight into the freezing night air. i only wish there had been an available snow bank to dive into.




climbing the rustic tree house with the boys, eating delicious homemade gooseberry and boiled potato meals with fresh basil and oregano from the farm's garden. fresh caught norwegian salmon from the baltic sea. driving into this drunken cowboy town where the locals'll only attempt to speak english after they're completely sloshed enough to give it a try. night never falling, the sky always this strange hazy white, really the land of the midnight sun. only wishing i could make the time to drive up a few hundred kilometers more to lapland – to see the sammis, finland's brown-skinned indigenous people, their eskimos, reindeer herders, tribal chanters, their nomadic wanderers.




but my week's up. have to return the rental car to downtown helsinki. so i drive back southeast, through the never-changing landscape of forests and lakes, in a ten hour push, slipping through maybe seven different short-lived rainstorms all in the same drive. i smile as i see yet another group of finnish teenagers "skiing" on rollerblades - poles, gloves, ski hats, and all....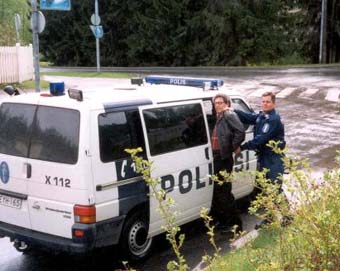 venice beach it's not---


nakemiin,


erik the finn






---
---
---