« oy vay, vietnam! »





---
---
---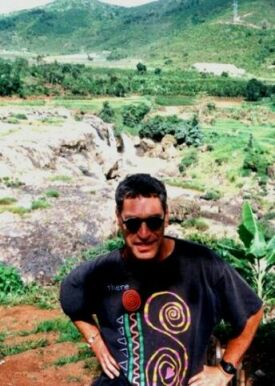 ---
---
---
may 21, 2000


greetings brothers and sisters of the revolution—


i am now in dalat. vietnam. never heard of it? but biensur, it is the cool-air, mountain-high resort of the country that flies its red flag with yellow communist star over its plush jungle green, red blood-stained history. all the honeymooners and well-to-do party members come here to play – with their stylish, french-built country homes, sitting above le lac, now buzzing with motorbikes and the omnipresent sleazy tourist trade.


good morning............. vietnam.


what am i doing here? i think my venice beach friend has it right. this not a vacation, it's a window into a world i never knew existed. bangkok, phnom penh, and then saigon – these are teeming, steamingly swarming, 3rd world metropolises that defy western logic and comprehension. everything is for sale: sex, drugs, silk, "anything you want, whenever you want it". it's obscene (sorry, i don't mean to be a prude – because i'm not) -- the culture shock between asian and western. i can't help but feeling a little like gulliver surrounded by these asiatic lilliputians; or just mr. g.i. american tourist joe, the easy mark for this army of poor, hungry, trying-to-make-a-living workers, whores, restauranteurs, hoteliers, tailors, cobblers, boutiquers, ad infinitum. it's just impossible to escape the presence of the almighty dollar and simply feel like a human being.








saigon, now ho chi min city, is the new vietnam. the one conquered by uncle ho and his indestructible communist viet cong. the one that sided with, and was propped up by LBJ, tricky dick, and their shifty uncle sam. the one that supposedly and definitively "lost" the war. only now, three decades later, it is also the city that has aggressively re-invented itself as the capitalist success wonder of the country – ever since 1991 and the fall of the soviet union, and the country's concomitant "rapprochement" with the west. and so while the "hanoi hilton", a euphemism for the busy viet cong jail for americans and westerners during the war, is still an ugly reminder of the "american" war in the communist north, the "cu chi tunnels", a small part of the intricate series of underground tunnels that the viet cong built, lived in, and fought from outside saigon – are now, by contrast, a profitable, money making tourist industry in the south. (that's me in the photo squeezing through one of the tunnels. can you believe that these clever, tenacious people built these too-small- for-american death traps to persevere in for so many years - surviving the napalm bombing, the agent-oranging, and the full might of the great US of A? these tunnels, complete with sharpened bamboo stakes that caught too many GIs on their painful points, are both a stubborn testament to a country's will and a scary reminder of two nations' complicated history together).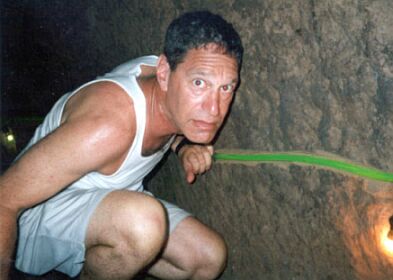 ho chi min city – still "saigon" to both tourists and residents – what a exciting, stimulating mix of bustling modern asian capitalism, stylish french provincial cooking and architecture, chaotic, out of control traffic, and raw, struggling-to-stay-alive poverty. walk the streets, day or night, and you will be assaulted by touts, food hawkers, sex shop promoters, motor bikes, pollution, tourist shops, banks, mini busses, cheap hotels, 5 star hotels, great food, lousy food, beggars, flies, mosquitoes, amputees, wrought-iron balconies, new techno skyscrapers, raw sewage, wood-sheeted construction sites, the hotel rex, the revolutionary museum, the reunification palace, the war remnants museum, water puppets, chinese pagodas, islamic mosques, christian churches, and so much more.


i'm used to traveling by meeting people, being open, disappearing into the culture – but here it's impossible. my white skin just makes me a mark. tomorrow i hope to hire a guide in dalat, get on the back of his motorbike and disappear from civilization for 3-5 days. live with some still indigenous people, get away from this karaoke music and pre-packaged tourist industry. the countryside is spectacularly beautiful, and up here above the tourist-bound and government-controlled vietnamese coast, it's full of banana and coffee plantations, muddy green rice paddies, and old french built roads, fine for swerving around and breathing in the damp, fresh air.


i don't think this is a trip for everyone; but hell, here i am – in vietnam. i didn't come over to fight the war with the draftees and volunteers of my generation, but now i'm getting to pay my token dues and see the hell we created, that i read about, and protested so much about. it's impressive – war is. cambodia too, where there are still signs of it everywhere: war remembrance museums honoring photographers who lost their lives shooting their last frames of film, the same one legged and no-legged beggars in the street, this goddam cancerous east gone west tourist scene. but also remembering, just a mini-bus and river ride away from the ancient temples at angor wat…








i know, it's only been two weeks. but it feels like - de plus longtemps. i can hardly sleep at night. two hours at a time. i'm just too wound up. the streets have been calling. two in the morning in a rickshaw in saigon. three in the morning the hotel's pool in bangkok. four in the morning in a disco karioke bar in siem riep. five in the morning walking the dangerous waterfront in phnom penh. six in the morning watching the communist, now-capitalist sun rise in hoy an, vietnam. my travelmate, el mario, has shot up the coast for his mad dash towards the finish line, and i'm on my own for another six weeks! scared? a little. excited? i'd be crazy not to be. tired. already. i hope i can make it to the beach in bali where i can just – relax and unwind.


i realize this trip is a privileged detour from "normal" life for me, and that "real" life, death, joy and sadness carries on just fine without me. it's a terrifyingly strange feeling to learn that a friend's son has committed suicide in chicago while i'm checking my e-mail in siem riep, cambodia! yet i really appreciate hearing from you in these strange far away places. especially after being cut off from technology and civilization for days at a time.


i love you all,


yours for now


saigon chollie





---
---
---