baptism in banos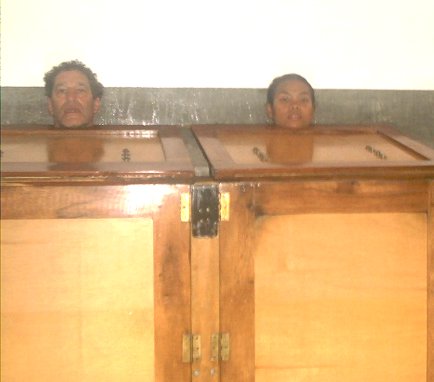 riobamba y banos, ecuador
surprisingly - without more incident - we survive el nariz del diablo and bus our way to riobamba. yes, it's true, an inordinate amount of towns end in "bamba" here in ecuador. i don't think it's a tribute to ritchie valens, but more to the bailar, the dance, in the air.
local bussing is the way to see a country. not the tourist busses, which can be more comfortable, efficient, and expensive; but when you're surrounded entirely by fellow gringos, as opposed to locals on their way to and from reality, how much indigenous life can you really expect to see? the answer obviously – not much. of course, that's one of the reasons for gringo tour busses – to insulate you from everyday life. from the poor locals. from the leather-faced, black-skirted, white and black-hatted, crimson, blue, and green-clad elderly women (abuelas/grandmothers) traveling from village to village. traveling with children, without; sitting in the aisles when the bus is full. wearing beautiful hand-crafted silver earrings, necklaces, faces of long-suffering and implacable endurance. gringo tour busses - to insulate you from the death-defying, centrifugal force-defying downhill plunges of the 4-wheel local behemoths. from their infinite number of stops, mostly unscheduled; the local bus will stop for anyone, anytime, anywhere. from the long hours, the bumps in the road, the unpaved roads, the unpredictable and exasperating, but therefore predictable but still exasperating, delays.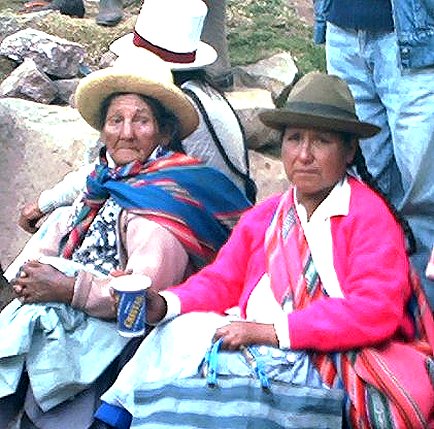 from the local chewing gum or miracle cure salespeople – men, women, and children – who hop on the bus for a few miles or stops – start at the front of the bus – working their way to the rear - who proceed to tell you their tale of woe – sometimes for 10-15 minutes at a stretch – en espanol - about how their mother died or is blind – or how they're crippled or unemployed – and how your fifty cent donation will really be appreciated. and god bless you and muchas gracias. and then whether you're interested or not – you get the chewing gum, the candies, the hand made belts, wallets, vests, the cancer-curing, colon-cleaning, skin-smoothing cream, tablet, pill – in your hands, on your lap – until having worked their way around for the second time, they either coerce the requisite number of soles, bolivianos, or dollars (used exclusively as currency in ecuador) from you, or indifferently collect the paraphernalia, only to redistribute it again on the next bus to anywhere. of course, not without making you, the privileged, touring gringo, feel appropriately guilty if you don't make a donation to their well-deserving cause.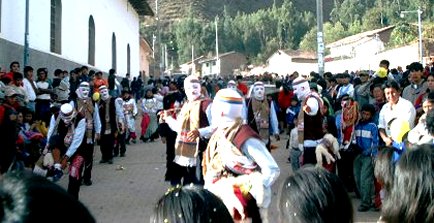 we arrive at the main bus station in riobamba, transfer immediately into one of an awaiting horde of gypsy taxis, hurtle downtown, and run smack into full-fledged parade headlining another ubiquitous street festival. the colorful floats look like motorized piñatas and block our way to "el tren dorado", the hostal with the name of "the golden train". it's been recommended by the big dane from the devil's nose train ride, and we've learned to follow our hunches about these things. so we carry our now 6 bulging bags down the street half a block and squeeze ourselves in between the reservations for a one night stand, so to speak. the place is totally booked with groupos, but for just tonight, there's "solo un habitacion". a very sweet "matrimonial" with una cama, a double bed instead of the standard two singles. it's small and quiet and charming. we need that. and it has hot water - powered by gas, as opposed to electricity. that's good too. we like gas. it means the water stays hot for more than 15 seconds at a time.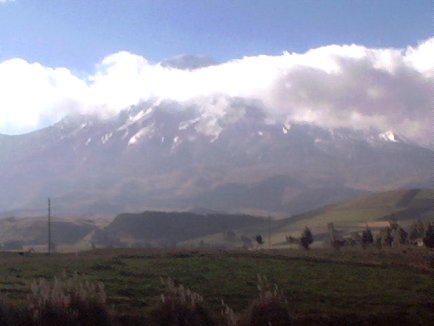 riobamba is on the tourist trail for one main reason: chimborazo. according to some lore, the highest mountain peak in the world. i know, i know, what about everest? well... it depends on how you measure it. chimborazo has the claim of being the farthest mountain peak from the center of the earth. it's a bit dodgy, but if you figure that chimborazo, very near the equator, has a few thousand meters of the earth's crust to add to it's 6310 meters, it, in fact, outdoes everest by many meters; although everest, quite a bit more north in tibet's snow-capped himalayas, is in fact taller than chimborazo if you measure from the earth's surface. reminds me a bit of the malaysian book of records which has the same sort of self-centered, but similarly dodgy units of measurement.

in any event, chimborazo is a fucking tall, snow capped, glacial mountain, that serious mountaineers climb quite single-mindedly; the thin air near its peak being the source of many, many painful, but sir edmund hillary-esque claims of victory. wati and i, having already failed the yuppie challenge of the inca trail to machu pichu, and suffered the combined deleterious effects of "soroche" all over the andes of peru, bolivia, and now ecuador, know better than to even dream of attempting the ascent of chimborazo. besides, we've been navigating more than enough inter-personal, maritally-challenged mountain peaks and valleys of our own.
so we manage to find a stunning, delightful, and far more pocket-friendly alternative. we take the local bus from riobamba - 80 cents - into the indigenous villages at the foothills of chimborazo. we get off in the middle of know-where, and take a completely random route up into the dirt roads around the volcano. it's still active, they tell us. but we're fearless. we've been through more rugged and explosive emotional terrain – just yesterday.

the skies smile at our decision, as the clouds clear the mountain's peak just after our little hike begins, and we get some immaculate views and photos - all without the lung-crushing effort of the 2 day climb. not exactly hillary-esque by any leap of the imagination, but good enough for us. especially when we run into a whole gaggle of local native girls coming home from a day's schooling in riobamba, where they are learning english - and german. they practice each on us (one obviously with more success than the other), and graciously pose for the obligatory tourist photos. i promise one especially sweet and animated girl, esmerelda, to send my regards to her dad who lives, surprisingly, in washington dc; so dad, if you're out there in cyberspace, here's a little hello from your daughter out there in the foothills of san juan, under the daunting beauty of icy chimborazo.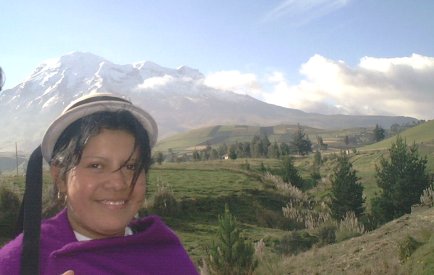 we escape el tren dorado and chimborazo with only one incident of emotional calamity between us, and bus on to banos, the gringo paradise right at the foot of tungurahua, another volcanic queen along l'avenida de los volcanos. we stay at "plantos y blancos", plants and white, another recommendation from our friendly dane from nose of the devil. he certainly seems to have excellent taste, and for only a few dollars more (that's right, clint, if you ever want to check it out...), we get the rooftop terrace views of the adjacent waterfalls that are the best in banos - along with the yogurt and fruit breakfasts in the late morning that follow the one of a kind, daily medicinal steam baths.
now i know, we've all done the rejuvenating health spa-steam bath thing. the russian baths in chicago where they beat you with switches of grape leaves, the beverly hot springs right in town in LA, where you do the standard hot to cold, shock the body, water thing -- but here in banos, they do it a bit - differently.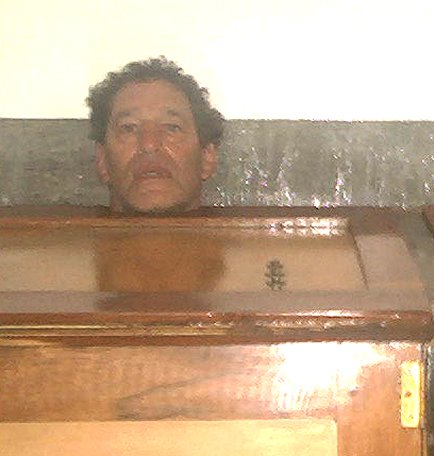 picture this: a square wooden box - maybe something like the one cool hand luke tolerated for his daily prison crimes and misdemeanors - that you are shut into. a hard wooden bench, and a towel around your neck to soften the guillotine-like enclosure that your head protrudes from when the top of the box is closed over you. next - the steam. four minutes only. hot steam everywhere - except your head. next, attendant jose lets you out of the box. neck towel off. cold running water toweled over your entire body. just follow jose. towel right leg up over the torso. left leg, the same. both legs, torso. right side. underarm. left side. underarm. back of the whole body. cold water. back in the box. another four minutes. staring at the gray and white stone banos church through the now mystically steamy window straight ahead.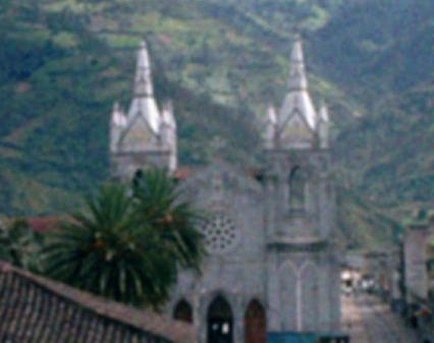 out of the box. cold towel routine exactly the same. back in the box. this time with a sprig of some fresh-smelling mountain herb. four minutes. toxins starting to swim off your body and out of your mind. out of the box. into a shallow tub of colllld water. as you massage your own bowels, jose throws tubs full of cold water all over the rest of your surrendering body. back in the box. four minutes. out. cold towel routine one more time. back in the box a final 5th time. out. neck towel off. a bucket of colllld water over the head. take your place in jose's instructed position. arms down. as he hoses you down with a special plantos y blancas herbal concoction: right side. left. arms overhead. arms down. turn around. front. hose mercifully softened with his thumb over the nozzle. spray the genitals. turn. spray the back. and.... "esta bien?" "si." that's it. the morning steam bath. recommended for three consecutive days.

while i'm steaming and cleansing, wati takes off to galaileo, the blue jean capital of ecuador. we decide to let the steam off between us with a little temporary separation. a well-timed mutually-imposed exile so to speak. two months of travel - twenty four seven - is a bit much for even the most skilled and practiced companions. which we make no claims to being. patience has more than occasionally run thin. imagined glances have flared tensions. several times. rockets have been launched. anti-aircraft defense missiles have responded. all out war has been only miraculously avoided. but not without pain, bruises and scars. it is many a time, strung out on another long bus ride through the andes, or caught by surprise by another jealous or well-deserved left hook, or temporarily chilled by another emotional glacier between us, that i've poignantly remembered my friend marcie's probing pre-trip advice: "you just got married. why don't you just stay home, take it easy, and see what it's like?" ah – the wisdom of hindsight.

while my wife's gone, i do the unthinkable. go for a twenty kilometer bike ride. unthinkable? si. because anyone who knows me at all knows that i am not a hiker, climber, biker, or trekker. i hate anything uphill (life is enough, don't you know). but that's just it. the 20 kilo ride from banos to rio verde along l'avenida de las cascadas (another scenic avenue - this one of the waterfalls) is almost entirely - downhill. at least that's what they tell me. and after i rent the mountain bike, get the helmet, pack the rain pancho, water bottle, and cheap package of vanilla wafers, i set off to find out. and wouldn't you just know it - it's true - for the most part. downhill, that is. and when it's not, i can even figure out how to switch the gears so as to be almost able to pedal the whole way. twenty kilometers! for mr. anti-hike. not bad, eh? i only wish i could pedal my way so easily through my marriage -- and rest of this trip.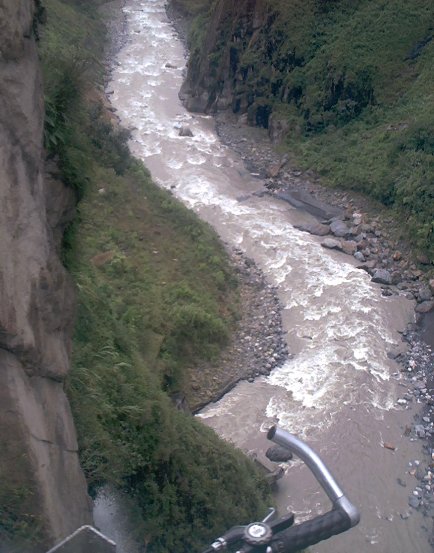 but at the end of the ten kilo ride to rio verde, there's a final challenge. one can hike down to "el pailon del diablo", the devil's cauldron. it's considered the highlight of the trip. sort of the eco-tourist pay off. yet they call it another invention of the devil. i'm not so sure. hell, i've already taxed myself enough. it would be much easier to just catch a picante bite to eat, throw my bike on top of the waiting bus, and hightail it back to banos. but the panting and sweating hikers at the foot of the trail are all raving about the trek. "it's totally worth it," they say, soaked in sweat and fresh mountain water from the rushing cascada. and so who am i to squirm my way out of another challenge? i mean, how would i feel about myself? what about my manhood? my self esteem? i already begged off the incan trail. i can't blame my slackerlyness on my wife. she's off shopping….
so… i bite the bullet and descend. downhill. to el pailon del diablo. knowing full well that my osteo-arthritic hip will be calling me out loud and clear the next day. twenty kilos on a bike – AND – two kilos uphill! "shut the fuck up", i tell my hip, "life is not a downhill hike. life is not a bed of roses. no pain, no gain. get your ass down there and drink of the nectar of life."

i do (sounds familiar, those two words). and you know, sometimes pictures and words, no matter how visual or elegant, just can't tell the real story. so you'll just have to trust me on this one. the power of the falls… the closeness the crashing water... the solitariness of the moments... it was just one of those "you hadda be there's.
wati comes back a day later with a pile of new bell bottoms, denim skirts, and calf-high capri pants. she has miraculously calmed and cleansed herself with the seeming same amount of serenity as my plantos y blancos steam bath and biking rituals. each to his or her own rituals, i guess. at night, now reunited, we walk to the local "banos", the natural hot springs coming from underground. they are warm. the night is beautiful. although like most "natural" hot springs, they're paved with blue concrete and packed with bathers - both local and international. yet what can you do when surrounded by a bevy of half naked bathers? well, you can either go home and wait to find that eternally-elusive, completely-private fountain of youth, or - you can - just join the fray. we decide to opt for the latter, and amongst a cram-packed sea of sunday night half-naked bathers, we manage to feel - entirely alone. gravitating to the corner of the pool closest to the 200 foot waterfall, i, with my half-steamed wire glasses, and she with her radiant child's smile, stare up - at the falls - and - into each other's eyes - laughing and feeling close; dousing ourselves in the waters of new life, vowing to start over once again, tomorrow, on new feet , with fresh eyes, with open hearts - back on the bus of love and life.

and that's what we manage in banos. a sort of self created and ritual baptism. of love. and life. with three, jose-instructed, plantos y blancos steam baths in the morning (two for her). with two 20 kilo bike rides (hers the day after mine). by sweating the toxins out. by pushing the muscles through the aches, joys, and pains of post-bicycle coitus. with a new bathing suit. and piles of new jeans. surrounded by sweet ecuadorian faces. eating more broasted chicken. and rice. soaked in hot thermal waters. riding los avenidas de cascadas. reading spanish versions of cosmo. and "contemporary ecuadorian short stories". with ritual cleansings. and intimate re-commitments. and re-dedications. under the falls. one day at a time. in -- banos. what more can you ask for, eh? it's like stevie j says (and a few others before and after), "it's not the destination, dude; it's the journey..."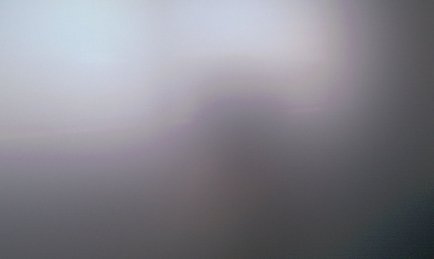 and so it is. so it is.
still reaching for quito, the pristine ecuadorian capital nestled in the blue sky of the andes,
hasta luego, babies,
eric, the renewed